2011 Turkish Grand Prix
From GPVWC Wiki

The 2011 Turkish Grand Prix for the Superleague - the twelthth race of the season - took place at the Istanbul Park circuit in Turkey on the 14th of July.
Report
After another win in the previous round at Imola, Draig Racing driver Lee Morris' domination of the 2011 GPVWC Superleague was ever more apparent. With Draig's financial problems preventing them from being able to update the car though, their rivals surely saw Turkey as the beginning of a chance to try and turn things around and try to close the ever increasing gap in the points table. Once again, Joe Consiglio was expected to be the main challenger.
Qualifying
Indeed, it was the Nordsjoen Racing driver who took pole position at Istanbul, 3 tenths ahead of his Maltese counterpart Jason Muscat, with Morris having to settle for 3rd. It was a solid return to for Synergetic driver Sam Millar who took 6th on the grid, and a good session for Belgian driver Bart De Vos, one position ahead of Millar. It was a disappointing session for the other Nordsjoen of Pavel Loknovski, who could only manage 11th place after a fueling error during Q2.
Race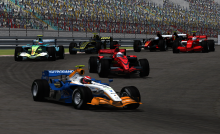 Even before the start of the race, sadly for Mark Stanton, an incident on the formation lap with Ben Morgan forced the Constant Racing driver to start from the pitlane. At the start of the race, Consiglio and Muscat both held their positions, but Lee Morris had a terrible getaway, losing a heap of places, ending up down in 8th position. Early on, it was pretty clear that Consiglio and Muscat had the measure of the rest of the field, with the two Maltese driver's pulling out a gap over 3rd placed Nick Rowland. Part of Morris' comeback involved an incredible 4 wide battle which also involved Bart De Vos, Sam Millar and Dave Carr-Smith. Amazingly, all 4 drivers made it safely through the twisty final section, proving the standards of driving in the GPVWC are always rising! Lap 9, and the first retirement of the day was Millar, just before the start of Sector 2, aggressive downshifting apparently the cause for his Ferrari engine going up in flames.
After working his way back through the field, Morris was up to 4th place, and chasing Nick Rowland down for 3rd, whilst the rest of the field remained relatively stationary before the first pitstops began. It was a sad end to the race for Ben Warren of Nijo Racing on Lap 16, who was running up in a solid 9th place before technical problems with his laptop ended what could potentially have been a run at some points. With some driver's opting to pit earlier than expected, the leaders carried on, with leader Consiglio making his first of 2 pitstops on Lap 18, with Muscat following suit a lap later. Once all the stops had been completed, the top 4 driver's remained in order, with Muscat just over 6 seconds behind Consiglio, Rowland a further 8 seconds back, keeping a 2 second gap between himself and the recovering Lee Morris. This all changed on Lap 23 however, as bad luck once again hit Jason Muscat, with another disconnection from the race, costing him a likely podium, and elevating Rowland and Morris into 2nd and 3rd respectively.
The battle for 2nd place between Rowland and Morris continued for many laps, but sadly for the
Midnight
driver, came to an end on Lap 51, after a small error caused Nick to accidently swipe Morris' car, costing Rowland his front wing. In the ensuing pitstop for repairs, Rowland accidentally missed his pit limiter, forcing him to take a drive-through penalty. He rejoined in 4th, just ahead of teammate Carr-Smith, and set about trying to catch the now 3rd placed
David Jundt
, but it was not to be. Consiglio was completely untroubled for the rest of the race, taking an impressive win, 27 seconds ahead of 2nd placed Morris, who after a very busy race, was probably extremely pleased to take 2nd, and not lose too much of his lead in the championship. Jundt had a quiet race, but nevertheless took a good 3rd place, ahead of the Midnight boys in 4th and 5th, Rowland finishing ahead of Carr-Smith.
Ryan Walker
finished in an impressive 6th place, recovering from an earlier drive-through penalty after an incident involving himself and
Ojay Clark
. Bart De Vos took 7th for Triple-Double Racing, with Clark in 8th.
Christoph Lichtenstein
was delighted with 9th position, somehow able to hold off Pavel Loknovski in the last few laps with some great defensive driving, forcing the Estonian driver to have to settle for a disappointing 10th place.
Despite Consiglio taking the win, the fact Morris was able to recover to 2nd place in the race means his lead is barely trimmed down to 32 points over the Nordsjoen driver. Muscat's unfortunate retirement sees his teammate Jundt move up to 3rd in the standings, 6 points ahead of his Maltese teammate. Dave Carr-Smith rounds out the top 5. In the Constructors standings, the battles are much closer, with Draig Racing leading the way on 169 points, but just 3 points ahead of the constantly improving Red Archer team. Nordsjoen Racing are still in the hunt as well in 3rd place, albeit 33 points behind Draig. Midnight Motorsport are in 4th place with 84 points, with the best of the new teams, Triple-Double Racing moving up to 5th place in the standings with 58 points, pushing Woods Racing down to 6th.
Classification
Qualifying
Race
Standings after the Race
| | |
| --- | --- |
| Drivers' Championship standings | Constructors' Championship standings |
External Links