Petar Brljak
From GPVWC Wiki
Petar Brljak is a Croatian sim-racer. He primarily drove for Walk Racing in the 2014 Formula Challenge season, but made his debut in the series in the Malaysian rounds for Aurora Motorsports. Petar is the reigning Drivers' Champion in Formula Challenge.
=Early Sim-Racing Career
= Before joining GPVWC, Petar raced in various other leagues. Just after the beginning of the 2014 GPVWC Career Ladder season, Petar decided to join GPVWC. He would join Aurora Motorsports for the Malaysian Rounds in the Formula Challenge. After the race weekend he would sign a new deal at Walk Racing - this deal was for the rest of the season.
Formula Challenge
2014
Petar made his debut at GPVWC in Formula Challenge at the Malaysian Grand Prix. Even before the races Petar was one of the favorites to win one of the races - his times on the LiveRacers timing system were very quick.
In qualifying for the Malaysian Grand Prix, Petar did what was he expected to do - putting his car on pole. Race 1 saw Petar have a great fight with Jonathan Holmes and just beat him by + 0.268s - meaning Petar took the victory on his debut race. Race 2 saw Petar unfortunately involved in a collision, forcing him to retire. Despite this, Petar's pace impressed many people and he was snapped up by Walk Racing for the rest of the season.
At Bahrain Brljak claimed pole again, and once again winning the first race of the evening, while he finished in 3rd place at the second race.
Petar would go onto to take 10 more wins in the season and win the championship with 531 points - a staggering 177 points ahead of second-place David Jundt.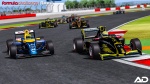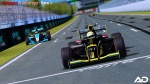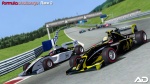 Racing Career Results
Scoring system
Points are awarded to the top 15 classified finishers.
| | | | | | | | | | | | | | | | |
| --- | --- | --- | --- | --- | --- | --- | --- | --- | --- | --- | --- | --- | --- | --- | --- |
| Position |  1st  |  2nd  |  3rd  |  4th  |  5th  |  6th  |  7th  |  8th  |  9th  |  10th  |  11th  |  12th  |  13th  |  14th  |  15th  |
| Points | 25 | 20 | 16 | 13 | 11 | 10 | 9 | 8 | 7 | 6 | 5 | 4 | 3 | 2 | 1 |