Mal McKee
From GPVWC Wiki
Mal McKee is a Northern Irish driver, manager and team owner in the GPVWC. He currently owns and runs Synergetic Motorsports. He entered some 35 Superleague Grands Prix, with 24 race starts.
McKee started his sim-racing career in 2002 in the GPVWC and GPTC leagues. In the GPVWC, McKee approached Dan Lawrence (then league administrator), who put him in touch with Dan Prescott with a view to securing a seat with DPI Racing. Prescott gave McKee a test session at Magny-Cours and was impressed with the rookie's consistency. However, McKee drove with most of GP3's driving aids on! Not having had time to read the rules, Mal unwittingly submitted laps which would have been illegal had it been a race session. Prescott was also unaware of this, and accepted the driver anyway, praising his consistent lap times. When McKee realised and then confessed to his new team manager, a contract had already been signed. Mal went on to get used to driving with the minimum of driver aids, in a short space of time, and entered the 2003 Brazilian Grand Prix.
From Dan to Dan (2002)
With Dan Prescott's sudden departure from the league, Dan Lawrence ensured McKee wasn't left without a drive. Lawrence rekindled BA Racing and gave McKee a seat. It was therefore with BA Racing that Mal entered his first Grand Prix in Brazil, 2002. He finished 10th, just behind his team mate and manager Dan Lawrence.
While today 10th is enough to secure a point in the championship, it was only the top six drivers who received points back then. Unfortunately the relative success of his début was not to last. In the early years of his career, Mal had problems with equipment and personal commitments that was to haunt him in his driving and management career for quite some years.
After a couple of races, Dan decided to bring some fresh talent into the team, and asked Mal to sit back as reserve driver. While this was somewhat disappointing, being a team player, this was something Mal readily agreed to. It wasn't long before Lawrence demoted himself as well, in favour of more talent for BA Racing. The fortunes of the team increased before the end of the season but, by then, it was too late.
Ups and Downs... mostly Downs (2003-2004)
With some minor success in the GPTC, McKee eventually got off the waiting list to enter his team, Down Racing in the GPVWC. The most consistent driver for his team, which renamed to Ultima Racing in the middle of the season, was Mal himself - and that was not a record of consistency to be proud of. Mal had wanted to concentrate on the management side and establish the team, while working on improving his driving skill on the side. This was not something which was destined to happen, however.
With a lack of interest in the team, and Mal's own increasing despair and dwindling optimism, he was hit with a double-barrel of disappointment: firstly, he was informed that his team had been evicted from the GPVWC with only two races to go in the season; then the GPTC league folded. McKee resigned himself that he was not destined for sim-racing. In that same year, the GPVWC itself had almost come to a standstill.
Mal remained on the sidelines, though kept in touch with some of the people in the league - particularly the new Administrator, William Ponissi, who had started his sim-racing career about the same time and shared a similar driving pace. McKee was jaded with the sim-racing scene, but his interest in both racing and managing never really left him.
Return (2005)
Thanks mostly to continued contact with Ponissi, Mal rejoined the GPVWC (now known as the F1VWC). He was given a racing seat in the Supercup with Mariano Malisani's new team, Synergetic Motorsports. Able to concentrate more on driving, and leaving the management side of things to others, Mal found a renewed commitment levels. When Mariano took a leave of absence, the team was offered to Mal, who accepted and developed a plan to enter the team in the Superleague. It had been his intention to re-enter the Superleague as well, after gaining some more valuable experience in the Supercup. He gained some moderate success in the Supercup, but his plans were delayed.
Synergy (2006)
Synergy is defined as "a mutually advantageous conjunction of distinct elements". A more apt description could hardly be found for McKee's resurrection as a team owner/manager. It is the very definition of a team, and a founding principle which McKee had hoped to inject in his role as manager, as well as other spheres. The opportunity to do this came in 2006 when, in order to increase the team's profile in the league, Mal and Ted Cragg entered into an agreement which saw Synergetic come under the umbrella of Stealth International.
The agreement was of more benefit to Synergetic, and Cragg was of a generous nature. It was to last until one or other of the owners decided to end it. This moment actually came when Cragg decided to retire Stealth from sim racing - at least from the GPVWC. The exercise was fruitful, and addressed the problem McKee had in attracting drivers to his team. Drivers were shared between the Stealth organisation and Synergetic, which meant that standby drivers achieved driving seats in the Superleague who wouldn't have had much opportunity otherwise.
McKee handed over the management of the Superleague aspect of Synergetic to Stealth's Juha Tanskanen, allowing him to concentrate on his own bid for glory in the Supercup and the management of that aspect of Synergetic.
The partnership with Stealth lasted for some two years and Ted even drove with Mal for Synergetic in the Supercup. While that lasted, Synergetic's Superleague outfit seemed to grow in reputation, and Mal was happy to leave management of it completely in Juha's hands. The following year, however, was a difficult one for all concerned.
You win some, you lose some (2007)
In 2007, the Supercup never got off the ground, despite the attempts at running the competition by Ryan McConkey with McKee's help. In the end, the year was a non-starter for Mal, with no Supercup running, and no slots free in the Superleague, Mal didn't want to put his management team out on their ear when they were doing a good job of running things. Mal took a sabbatical from the league.
Then you win some! (2008)
William got in touch with Mal at the end of the previous season, inviting him to stay on at the revamped and rekindled GPVWC. Although Mal had his doubts about the time he would have, he decided to give it a go. When an admittedly hugely reduced field of competition, it turned out to be his and Synergetic's most successful year to date. Although Mal wasn't able to commit fully to the year, and with teething problems for the new format, Monaco near the end of the first half of the season brought him his first race victory.
The management side of Synergetic's Superleague team had collapsed, and Mal resumed complete control. It turned out to be a familiar season for him, with a lack of drivers to team up, once again, leaving McKee virtually the sole racing driver for his team as in the past. However, Monaco was to be a special event.
Monaco, baby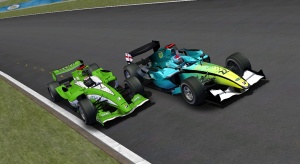 Although only <number> drivers taking part, Mal managed to get his first pole in a heavily wet qualifying session. The race itself was even wetter, with monsoon conditions making the race a difficult session for every one of the drivers who took part. Fortunately, Synergetic's weather data seemed to be exactly right, and Mal was able to plan his tyre and fuel strategy perfectly. The race wasn't without its trials and tribulations, however: Mal's car was swept away by the torrents of water rushing in the streets of Monte Carlo, and he had to pit no less than seven times, making him the driver to win a race with the most number of stops in GPVWC history. He still managed to keep pace most of the race, closing on the lead when he lost it, with every lap. While he ended up being the only driver to finish all 77 laps, Mal also won the triple for that race: pole, win and fastest lap of the race.
While Mal himself may have looked upon his win at Monaco as a fluke, or due to high attrition and low turn-out, he puts his win down to grim determination and a good initial strategy with the tyres. Another victory later in Japan cemented the driver as a race winner.
Synergy 2011
Supercup 2011
Other activity
Over the years, like other members, Mal has dedicated a lot of time and energy to the GPVWC. Everything from statistics, organising and contributing to this Wiki (and the original short-lived precursor), working out fuel consumption rates, speeds of AI cars, fixing software problems, to graphics and videos, helping run the Supercup (before it was known as the Supercup) with Ryan McConkey, generating ideas and enthusiasm, creating car liveries and helmets, Race Directing and race commentating, and attempting to use diplomacy to help out in times of crisis, Mal really has been fully immersed in the community and has had his fingers in any pie you care to think of!
Racing Career Results
Superleague
(key) (Races in bold indicate pole position, races in italics indicate fastest lap)
Year
Team
Chassis
Engine
1
2
3
4
5
6
7
8
9
10
11
12
13
14
15
16
17
18
WDC
Points
2002
BA Racing
?
Cosworth
AUS

-

MAL

-

BRA

10

SMR

Ret

ESP

-

AUT

-

MON

-

CAN

-

EUR

-

GBR

-

FRA

-

GER

-

HUN

-

BEL

-

ITA

-

USA

-

JAP

-

34th
2
2003
Ultima Racing
?
Ferrari
AUS

-

MAL

-

BRA

-

SMR

-

ESP

-

AUT

-

MON

-

CAN

-

EUR

DNS

FRA

DNS

GBR

-

GER

-

HUN

DNS

ITA

-

USA

-

JAP

-

NC
0
2008
Synergetic Motorsports
?
Toyota
AUS

3

MAL

4

BAH

C

ESP

3

TUR

C

MON

1

CAN

Ret

FRA

-

GBR

-

GER

Ret

HUN

Ret

EUR

3

BEL

2

ITA

-

AUT

Ret

JAP

1

BRA

-

Pos
Pts
2009
Synergetic Motorsports
?
Cosworth
AUS

Ret

CHN

Ret

JAP

-

FRA

Ret

IRL

Ret

MON

Ret

GBR

Ret

CZE

-

BAH

-

RSA

-

CAN

-

MEX

-

BRA

-

ITA

Ret

ESP

Ret

BEL

Ret

NED

13

SIN

10

NC
0
† Driver did not finish the Grand Prix, but was classified as they completed over 75% of the race distance.
Supercup
(key) (Races in bold indicate pole position, races in italics indicate fastest lap)
Year
Team
Chassis
Engine
1
2
3
4
5
6
7
8
9
10
11
12
13
14
15
16
17
18
19
20
WDC
Points
2005
Synergetic Motorsports
?
Renault
SAN

7

ESP

10

MON

6

EUR

10

FRA

DNS

GBR

7

GER

8

HUN

9

ITA

-

BEL

-

8th
55
2006
Synergetic Motorsports
?
?
GIB

6

SAN

7

EUR

Ret

ESP

8

MON

DNS

GBR

4

FRA

7

GER

10

HUN

8

TUR

-

ITA

-

BEL

5

5th
50
2011
Synergetic Motorsports
?
Renault
AUS

Ret

UAE

5

JAP

Ret

CHN

10

RSA

Ret

AUT

13

FRA

9

MON

11

GBR

10

BAH

16

SMR

13

TUR

-

MEX

11

CAN

13

BRA

-

ITA

-

ESP

-

BEL

-

NED

-

SIN

-

24th
10
2012
Synergetic Motorsports
?
Mecachrome
AUS

-

CHN

-

UAE

-

HUN

-

ESP

-

MON

-

CAN

-

KOR

-

TUR

-

GBR

-

ITA

-

BEL

-

NED

-

IND

-

USA

-

BRA

-

JAP

-

SIN

-

Pos
Pts
† Driver did not finish the Grand Prix, but was classified as they completed over 75% of the race distance.
Personal records
| Circuit | Class | Mod | Condition | Car | Date | Session | Controller | Time | Gap to Record |
| --- | --- | --- | --- | --- | --- | --- | --- | --- | --- |
| Interlagos | Superleague | GP3 | ??? | BA Racing Cosworth 2002 | 2002 Brazilian Grand Prix | Race | | 1:20.284 | 12.913 |
| Imola | Superleague | GP3 | ??? | BA Racing Cosworth 2002 | 2002 San Marino Grand Prix | Qualifying | | 1:29.547 | 9.421 |
| Circuit Gilles Villeneuve | Superleague | GP3 | ??? | BA Racing Cosworth 2002 | 2002 Canadian Grand Prix | Qualifying | | 1:22.152 | 9.358 |
| Sepang | Superleague | GP4 | ??? | Down Racing Ferrari | 2003 Malaysian Grand Prix | Qualifying | | 1:37.620 | 6.953 |
| Nürburgring | Superleague | GP4 | ??? | Synergetic-Toyota | 2008 European Grand Prix | Race | | 1:17.462 | 4.346 |
| Magny-Cours | Superleague | GP4 | ??? | Synergetic-Toyota | 2008 French Grand Prix | Free Practice | | 1:16.640 | 6.782 |
| Hungaroring | Superleague | GP4 | ??? | Ultima GP Ferrari | 2003 Hungarian Grand Prix | Qualifying | | 1:15.099 | 4.09 |
| Monaco | Superleague | GP4 | Monsoon | Synergetic Toyota 2008 | 2008 Monaco Grand Prix | Qualifying | | 1:18.273 | 7.453 |
| Melbourne | Superleague | GP4 | ??? | Synergetic Toyota 2008 | 2008 Australian Grand Prix | Race | | 1:29.792 | 7.823 |
| Bahrain International Circuit | Superleague | GP4 | ??? | Synergetic Toyota 2008 | 2008 Bahrain Grand Prix | Qualifying | | 1:29.888 | 1.838 |
| Catalunya | Superleague | GP4 | ??? | Synergetic Toyota 2008 | 2008 Spanish Grand Prix | Qualifying | | 1:21.494 | 8.09 |
| Circuit Gilles Villeneuve | Superleague | GP4 | ??? | Synergetic Toyota 2008 | 2008 Canadian Grand Prix | Race | | 1:18.348 | 5.554 |
| A1-Ring | Superleague | GP4 | ??? | Synergetic Toyota 2008 | 2008 Austrian Grand Prix | Race | | 1:11.550 | 4.159 |
| Suzuka International Racing Course | Superleague | GP4 | ??? | Synergetic Toyota 2008 | 2008 Japanese Grand Prix | Race | | 1:34.968 | 6.755 |
| Donington | Superleague | rFactor | Dry | Synergetic Cosworth 2009 | 2009 Donington pre-season test | Test | | 1:28.655 | 20.525 |
| Melbourne | Superleague | rFactor | Dry | Synergetic Cosworth 2009 | 2009 Australian Grand Prix | Qualifying | | 1:36.952 | 14.983 |
| Shanghai | Superleague | rFactor | Dry | Synergetic Cosworth 2009 | 2009 Chinese Grand Prix | Qualifying | | 1:40.333 | 8.565 |
| Charade | Superleague | rFactor | Dry | Synergetic Cosworth 2009 | 2009 French Grand Prix | Free Practice | | 1:29.784 | 6.199 |
| Mondello Park | Superleague | rFactor | Dry | Synergetic Cosworth 2009 | 2009 Republic of Ireland Grand Prix | Race | | 1:22.477 | 10.853 |
| Monaco | Superleague | rFactor | Dry | Synergetic Cosworth 2009 | 2009 Monaco Grand Prix | Race | | 1:17.932 | 7.112 |
| Silverstone | Superleague | rFactor | Dry | Synergetic Cosworth 2009 | 2009 British Grand Prix | Qualifying | | 1:25.778 | 8.422 |
| Autodromo do Estoril | Superleague | rFactor | Dry | Synergetic Cosworth 2009 | 2009 Portuguese in-season test | Test | | 1:15.582 | 7.54 |
| Monza | Superleague | rFactor | Dry | Synergetic Cosworth 2009 | 2009 Italian Grand Prix | Free Practice | | 1:27.588 | 8.535 |
| Valencia | Superleague | rFactor | Dry | Synergetic Cosworth 2009 | 2009 Spanish Grand Prix | Qualifying | | 1:43.523 | 7.425 |
| Spa | Superleague | GP4 | | Synergetic Toyota 2008 | 2008 Belgian Grand Prix | Race | | 1:50.237 | 7.643 |
| Zandvoort | Superleague | rFactor | Dry | Synergetic Cosworth 2009 | 2009 Dutch Grand Prix | Qualifying | | 1:17.555 | 7.261 |
| Marina Bay | Superleague | rFactor | Dry | Synergetic Cosworth 2009 | 2009 Singapore Grand Prix | Free Practice | | 1:43.752 | 14.975 |
| Jerez | Superleague | rFactor | Dry | Synergetic Ferrari 2011 | 2011 Spanish pre-season test | Test | | 1:20.391 | 3.372 |
| Hockenheimring | Superleague | rFactor | Dry | Synergetic Ferrari 2011 | 2011 German pre-season test | Test | | 1:14.659 | 2.938 |
| Portimao Circuit | Superleague | rFactor | Dry | Synergetic Ferrari 2011 | 2011 Portuguese pre-season test | Test | | 1:19.921 | 3.32 |
| Monza | Superleague | rFactor | Dry | Synergetic Ferrari 2011 | 2011 Italian pre-season test | Test | | 1:23.281 | 4.228 |
| Sepang | Superleague | rFactor | Dry | Synergetic Ferrari 2011 | 2011 Malaysian pre-season test | Test | | 1:34.950 | 4.283 |
| Yas Marina Circuit | Superleague | rFactor | Dry | Synergetic Ferrari 2011 | 2011 Abu Dhabi Grand Prix | Free Practice | | 1:42.882 | 7.408 |
| Fuji Speedway | Superleague | rFactor | Dry | Synergetic-Ferrari 2011 | 2011 Japanese in-season test | Test | | 1:16.079 | 2.395 |
| Suzuka International Racing Course | Superleague | rFactor | Dry | Synergetic-Ferrari 2011 | 2011 Japanese Grand Prix | Free Practice | | 1:35.874 | 7.661 |
| Slovakiaring | Superleague | rFactor | Dry | Synergetic-Ferrari 2011 | 2011 Slovakian in-season test | Test | | 1:37.932 | 8.543 |