Nijo Racing
From GPVWC Wiki

Nijo Racing is a team owned by Chris Williamson and is based in Nantwich, UK. Although the team is based in the United Kingdom, it has it's origins in Japan, where team founder Chris Williamson started his career as a sim racer. Indeed the team takes its name from the Japanese name Nijo (二条 - pronouced Nee-jo) which is a reference to a part of the city of Kyoto.
History
Origin 2010
Building on experience in various leagues and having raced with established GPVWC teams such as ST Racing and PB Racing, Chris Williamson founded Nijo Racing in late 2010. The team initially entered the league by securing a place in the 2010 Masters series with a driver line-up comprising of Williamson and David Jundt. Within just a few rounds, both drivers had already tasted success including a podium in the team's début race and a victory at the Snetterton circuit. The team went on to secure 3rd place overall in the constructor's championship.
Expansion 2011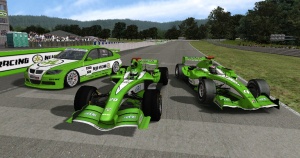 On the back of a successful Masters campaign, the team decided to expand their operations and secured places in both the GPVWC Superleague and Supercup competitions in 2011. The Superleague team managed to secure a supply of Toyota engines as well as the services of Tom Parker, Ashley Walsh, Abdel Damghi, Ben Warren and Tommi Koivunen who have all competed at various stages of the season. The Supercup team is comprised of the Masters line-up of Jundt and Williamson. Nijo Racing cars in both series run in the team's customary green and white liveries.
At GPVWC Nijo Racing have entered teams in the Superleague, Supercup and Masters series. Outside of GPVWC, Nijo Racing teams have competed at Race Department in their Rally Championship and V8 World Supercars championship.
Teams
Nijo Racing has several teams both in the GPVWC and in other series.
GPVWC
Others
Nijo Rally (RDRC)
Nijo Racing Australia (WV8S)
Gallery
External links