2011 Superleague season
From GPVWC Wiki
2011 Superleague season
Competition
Superleague
Title Sponsor
N/A
Platform Used
rFactor v1.255
Rounds
20
Mod base
Custom (Based on FSONE 2009)
Carshape base
2007 F1 (MMG)
Engine Supplier(s)
Mercedes, Ferrari, Renault, Toyota, BMW
Tyre Supplier(s)
Pirelli

P

Drivers
43
Teams
12
Drivers' Champion
Joe Consiglio
Teams' Champion
Red Archer VRT
Superleague Seasons
2000 · 2001 · 2002 · 2003 · 2004 · 2005 · 2006 · 2007 · 2008 · 2009 · 2010 · 2011 · 2012 · 2013 · 2014 · 2015 · 2016 · 2017 · 2018 · 2019 · 2020
GPVWC series in 2011
Career Ladder
Superleague
Supercup
Other series
The 2011 Superleague season was the 12th GPVWC Superleague competition. 2011 marked a new level of professionalism in GPVWC. Superleague events were broadcast live for the first time and car development would play a more vital role than ever before.
The Drivers Championship was decided at the pen-ultimate race in Zandvoort. Joe Consiglio took his 2nd title for Nordsjoen Racing after an intense year long battle with Lee Morris of Draig Racing. Morris had started the year on superb form but as Draig hit mid-season financial trouble, a lack of car updates made it impossible for the Englishman to maintain his lead in the championship.
Despite it being a long 20 Round season, there were surprisingly only four different winners in 2011. Consiglio took a total of 10 wins, Morris won 7, Jason Muscat scored 2 victories while Dave Carr-Smith triumphed on the streets of Monaco.
Red Archer secured their first Constructors Championship title and arguably had the best overall package all season. Drivers Jason Muscat and David Jundt proved to be remarkably quick and consistent throughout year. Nordsjoen Racing at least ensured the battle went right down to the wire in Singapore, but a retirement from Jyri Lylykorpi ended the Italian team's hopes of a fourth straight Constructors win.
Pre-season
Testing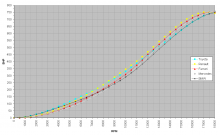 From the very first few laps of 2011 it was clear the Driver's Championship would be contested by two men,
Joe Consiglio
(
Nordsjoen Racing
– Mercedes) and
Lee Morris
(
Draig Racing
– Ferrari). Morris topped the timesheets in Jerez and Hockenheim, while Consiglio blasted his way to the top in Portimao and Monza. With only tenths separating the two in all sessions, the theme for the upcoming season was set.
Synergetic's Sam Millar looked like he would be able to at least occasionally challenge the top two and both Red Archer drivers looked in good shape to feature regularly in the top 5. The surprise of pre-season testing came from new kids on the block Midnight Motorsport. Dave Carr-Smith and Nick Rowland had both shown a promising turn of speed and would surely be capable of points and podiums in 2011.
Engines would again play a significant role in the Superleague season. Renault emerged as the strongest power unit and were holding a large advantage over the other manufacturers; particularly in low end torque. Ferrari and Mercedes were said to be 2nd and 3rd with Toyota and BMW bringing up the rear.
Report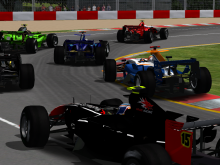 At the first race in
Australia
,
Joe Consiglio
took pole position closely followed by
Lee Morris
in P2. The two drivers ran different strategies and after the last round of pitstops converged, things looked set for a grandstand finish. Consiglio was in front and looked favourite to win until his brakes failed with 9 laps to go. Morris therefore inherited an easy victory with
Dave Carr-Smith
2nd and
Sam Millar
in a well earned 3rd.
At the next round in Abu Dhabi Consiglio once again lined up on pole. Due to a penalty Morris was demoted to 7th on the grid but wasted no time making his way up to P2 and keeping Consiglio in his sights. By mid-distance it became clear Morris was on a 2 stop strategy and Consiglio was on three. As the final pitstops played out Consiglio emerged behind the Draig driver with quarter of the race still to run. The Maltese ace caught and followed Morris all the way to the line but it wasn't enough to stop the Englishman taking his 2nd win of the season. With Consiglio only 6 tenths behind in 2nd, Jason Muscat crossed the line in a fine 3rd for Red Archer.
The 2011 Japanese Grand Prix turned out to be a classic. Consiglio took his third pole in as many races with Morris once again in P2. However at the start it was the lightly fuelled Sam Millar who rocketed into the lead ahead of the Nordsjoen and the Draig. The two championship contenders were both two stopping as opposed to the Scotsman who was on a three stop strategy. Although Millar was quick he couldn't break away from Consiglio and therefore after his first pitstop ran most of the race in a lonely 3rd. Consiglio re-emerged from his final pitstop just behind Morris as the two began a glorious battle for victory. Consiglio managed to pass Morris after a few laps, but after applying a huge amount of pressure Morris repassed the Nordsjoen driver on the very last lap. Consiglio tried to respond at 130R but Morris held his line and took the chequered flag less than two tenths ahead of the Nordsjoen.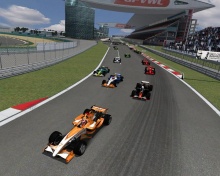 By now the development race was in full flow and
Red Archer
had stolen a march on the competition with a massive pre-
China
upgrade. This translated to a first ever pole position for
Jason Muscat
.
Mark Stanton
surprised the paddock with a career best 2nd for
Constant Racing
while
Lee Morris
and
Joe Consiglio
lined up on row 2. In the race, a mistake by leader Muscat gifted Morris the win but the Red Archer driver had shown he now had the car and skill to challenge for victories.
Dave Carr-Smith
rounded off the podium for
Midnight Motorsport
with Consiglio recovering to 4th after a first corner incident with
Sam Millar
.
As the circus moved to Kyalami, the undefeated Lee Morris was looking for his 5th win of the year. Morris and Consiglio lined up on the front row but only after grid penalties had been applied to Jason Muscat and pole sitter Sam Millar. At the start Morris held off Consiglio into turn 1, meanwhile Muscat had had an absolute flyer and was already up to 3rd. The two Maltese drivers began a 10 lap battle for 2nd with the Red Archer eventually winning out. All this had helped the three stopping Morris establish a massive leader in the early stages. In the latter stages of the race Consiglio span himself out of contention whilst Muscat launched his attack on Morris for the win. However the English driver once again resisted the pressure and headed off the Red Archer all the way to the line. Consiglio wound up a distant and somewhat fortunate 3rd.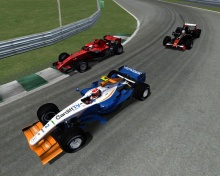 At the next race in
Austria
,
Sam Millar
took pole ahead of
Jason Muscat
in 2nd and
Lee Morris
in 3rd. At the start Muscat sprinted into the lead while
Joe Consiglio
(P4) launched past Morris and Millar for 2nd. Muscat then made a small error exiting turn 3 and that was all Consiglio needed to move into P1. Later in the race, Muscat repassed Consiglio and at that stage was looking favourite to win. However, at the final round of pitstops, the
Red Archer
driver made a mistake and thus Consiglio was brought back into play. Meanwhile Morris had also quietly driven himself into contention, setting up a wonderful three way battle for the win. The fight had spectators and pundits on the edge of their seats as lap after lap the lead position changed hands. In the end, the top three drivers were separated by a mere two tenths, making it the closest GPVWC podium of all time. Jason Muscat was first man over the line, taking his 2nd career victory for Red Archer. Consiglio took a useful 2nd, finishing for first time in 2011 ahead of Morris in 3rd.
The Magny Cours circuit returned to the GPVWC after an absence of three years. Joe Consiglio lined-up on pole but only after a grid penalty had been applied to Jason Muscat who had been quicker in qualifying. Morris was 2nd on the grid but suffered a terrible start and dropped to 7th by turn 1. In the opening laps, the three stopping Consiglio made the most of an unfortunate disconnection for Muscat and the fact Morris was being held up in traffic. Eventually the two stopping Morris made it up to 2nd but by then Consiglio had established a massive lead over the Englishman. By mid-distance Consiglio had affectively made his extra pitstop back and with fresher tyres began to climb all over the Draig gearbox. At two thirds distance Consiglio passed Morris at the hairpin with a nicely judged switchback move. The Maltese driver emerged from his final pitstop just 1 second ahead of Morris. However with fresh rubber Consiglio easily extended his lead to 3.5 seconds, a gap he would keep all the way to the chequered flag. After an unlucky start to the season Consiglio had finally nabbed his first win of 2011.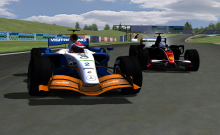 In
Monaco
it was pole-sitter
Lee Morris
who was in a class of his own in every session.
Dave Carr-Smith
lined up an impressive 2nd on the grid with
Consiglio
qualifying 3rd for
Nordsjoen
. At the start Carr-Smith got the jump on Morris with Consiglio maintaining 3rd position into turn 1. Eventually Morris passed Carr-Smith for the lead and proceeded to pull away at a staggering rate. By mid distance it was clear the top drivers were all on the same strategy. Morris had established a huge lead over Carr-Smith who in turn was well ahead of Consiglio. By lap 61 the race looked well settled until veteran
Kieran Ryan
spun off at the swimming pool section and beached his
Woods
right on the apex of the fast left-right chicane. Seconds later, 3rd placed man Consiglio came round, fully committed in 5th gear and didn't see the Irishman until it was too late. The resulting crash involved Consiglio hitting the Woods at full speed, bouncing into the barrier and then being hit by race leader Lee Morris. As the two championship protagonists tried to make it back to the pits it was clear their cars would not be repairable. When both men eventually retired it was Carr-Smith who capitalised on the situation and took his first victory of 2011.
The big news just before Silverstone 2011 was that Draig Racing were facing imminent financial bankruptcy and would be unable to further develop their car for the rest of the season. The race itself turned out to be another battle of strategies between Morris and Consiglio. With the two championship leaders lining up on the front row it was pole-sitter Morris who led into turn 1. Consiglio followed in 2nd but on lap 2 was passed by Muscat into Brooklands. However, on lap 3 the Red Archer driver made a mistake at the new Abbey chicane and this was all Consiglio needed to reclaim 2nd place. The Nordsjoen driver was then able to slowly pull away from his Maltese compatriot and keep Morris just within his sights. By mid-distance it became clear that Morris was 3 stopping whilst Consiglio was only scheduled to stop twice. Indeed, Morris emerged from his final pitstop 5 seconds down on the Nordsjoen with only 8 laps to go. On fresh rubber the Englishman sliced into Consiglio's lead at around half a second per lap. On the last lap the two were nose to tail but onlookers were denied a grandstand finish after an unfortunate collision at Vale. From a fair way back Morris had tried to outbrake the 2009 champion but in doing so made the slightest of contacts with the Nordsjoen's left rear tyre. This was enough to send Consiglio into a spin. However, in a great show of sportsmanship Morris acknowledged responsibility for the incident by immediately handing the position back to the Maltese driver. So after a very intense race it was Consiglio who picked up his 2nd victory of the season.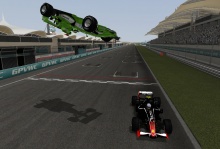 In
Bahrain
Jason Muscat
took pole alongside his Maltese compatriot
Joe Consiglio
. However both men were planning three stops as opposed to
Lee Morris
and
David Jundt
(P3 and P4) who were only scheduled to stop twice. Muscat maintained the lead on lap one but Consiglio was quickly passed by Morris on lap two. As Muscat and Morris fought for the lead on different strategies, it was clear Consiglio was in a losing battle for 3rd with Jundt. As Morris stormed to his 6th victory of the season, Muscat crossed the line in 2nd with team-mate Jundt picking up his maiden GPVWC podium in 3rd. Consiglio ran most of the race in a lonely 4th and finished some 8 seconds behind the Swiss driver.
Two weeks later, Morris took his 3rd pole of the year in San Marino. Championship Rival Consiglio lined-up alongside the Draig and with Muscat unable to race it was Ojay Clark who did a great job to take 3rd for Williamson Dynamics. At the start Consiglio got an excellent launch and comfortably led into the first corner. The faster Morris pressured Consiglio for the entire first stint and it was clear the Maltese ace was finding his Nordsjoen a real handful. After the two swapped positions in an exciting exchange, it was the Englishman who eventually won out. Before the first round of pitstops Morris was around 3 seconds ahead of Consiglio. However the ex-champion lost time queuing behind Kieran Ryan in the pits and this left him 6 seconds adrift of the Draig. At this point of the race Consiglio found some pace and by mid-distance the gap between the leading pair was down to 4 seconds. The charge ended a few laps later though when a gearbox blip sent Consiglio into a spin at Piratella. The final order was Morris followed by Consiglio with new team-mate Pavel Loknovski an excellent 3rd.
Round 12 of the championship saw the paddock arrive in
Istanbul, Turkey
.
Consiglio
took his fourth pole of the season with
Jason Muscat
2nd and
Lee Morris
in 3rd. At the start Consiglio made his now customary flier and led into turn 1 without any issues. Muscat followed the
Nordsjoen
in 2nd but a slow getaway from Morris saw the
Draig
slip all the way down to 7th. As Consiglio and Muscat pulled away from
Nick Rowland
(
Midnight Motorsport
) in 3rd it became clear that the Maltese pair would be the two main contenders for the win. By the first round of pit stops Consiglio had managed to build a 6 second lead over the
Red Archer
. However on lap 23 Muscat got disconnected for the 2nd time this season, another bitter blow for the young star. This left Consiglio with a substantial lead over Rowland in 2nd and Morris who by now had made it up to 3rd. The battle for 2nd was decided when a mistake from the
Midnight
driver handed Morris P2 in the closing stages of the race. Meanwhile Consiglio took a dominant victory some 27 seconds ahead of his championship rival.
Mexico saw Jason Muscat storm to pole position in his Red Archer. Lee Morris lined up 2nd with David Jundt and Pavel Loknovski 3rd and 4th. Joe Consiglio was demoted to the back of the grid after illegally entering his pitbox at the end of Q1. In the race the Red Archer's pace proved too much for Morris's underdeveloped Draig. Muscat held a comfortable lead throughout and was tracked by his team-mate all the way to the line. Morris secured a useful 3rd position whilst Consiglio could only manage 5th behind Nick Rowland. At this stage of the championship Morris had opened up a 36 points advantage over Consiglio in 2nd and was starting to look unstoppable in the championship.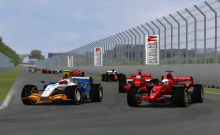 After a four week break the field returned to
Montreal
for round 14 of the championship. The paddock gossip was that
Nordsjoen Racing
had brought a considerable upgrade package to the Gilles Villeneuve circuit in an effort to resurrect
Consiglio
's now ailing title challenge. Qualifying saw the Maltese driver take his 5th pole of the year by half a second.
Jason Muscat
lined up 2nd with
Lee Morris
in 3rd and
Dave Carr-Smith
in 4th. At the start Muscat got the jump on his countryman and led going into turn 1. However, Consiglio was in no mood to follow the
Red Archer
and made a decisive pass into the final chicane later that lap. With Muscat suffering an electronic glitch and being sent into the barriers, Consiglio was left free to run away at the front. Behind, Carr-Smith made it past Morris and took 2nd place. Morris attempted to repass the
Midnight
driver but a collision dropped the championship leader behind his team-mate
Ryan Walker
in 9th. Worse was to strike the Englishman as he suffered a disconnection with only 15 laps to go. After a race that largely consisted of monitoring brake wear, Consiglio cruised to his 4th victory of the season, 22 seconds ahead of
David Jundt
in 2nd. With Consiglio winning and Morris non-scoring the title race had been reopened with six races still to go.
At the Brazilian Grand Prix a week later Consiglio once again lined up on pole position. David Jundt qualified alongside the Maltese driver with Pavel Loknovski doing an excellent job to secure 3rd on the grid. Lee Morris could only manage 6th in the uncompetitive Draig. At the start Consiglio led into turn 1 without issue, behind however Dave Carr-Smith managed to jump from 4th to 2nd with Loknovski slotting into 3rd ahead of Jundt. As Consiglio sped off into the distance, team-mate Loknovski passed Carr-Smith for 2nd at turn 4. As the race settled it became clear Consiglio was in a league of his own out front. However the battle for 2nd was an intense one, during the race no less than five drivers would be in the hunt for the runner up spot, Loknovski, Jundt, Carr-Smith, Morris and Nick Rowland all wanting their piece of the pie. Eventually it was the Nordsjoen of Pavel Loknovski who won the fight for 2nd, securing his best ever Superleague finish in the process. With Consiglio taking the win by over a minute, it was Nordsjoen's first 1-2 of the season and a fantastic result for the team. David Jundt continued his good run of podiums to finish 3rd while Morris completed an eventful race in 4th. The championship gap between Morris and Consiglio was now down to just 14 points.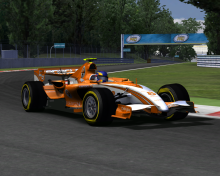 In
Italy
Consiglio
took his 7th pole of the year. Joining him on the front row was none other than his
Nordsjoen
team-mate
Pavel Loknovski
.
Lee Morris
lined up 5th in the difficult
Draig
. Unfortunately the start was nothing short of chaos for half the field. In the long drag into turn 1
Jason Muscat
made contact with
Nick Rowland
and the resulting puncture saw the Maltese youngster slip way down the order. Further back
David Jundt
spun off the line and collected numerous drivers along the way. None of this bothered Consiglio who made a clean getaway and easily led into turn 1. Loknovski maintained 2nd as Morris found himself in a surprising 3rd. As Consiglio pulled away at a staggering rate Loknovski made a mistake and dropped to 5th. By lap 10 Consiglio was comfortably ahead of the pack, however the Nordsjoen driver had had an eventful opening to the race. On lap 3 the 2009 Champion lost time overshooting turn 1 due a brake marker being swiped by another car. A few laps later Consiglio also suffered some damage after taking a tap to the rear when lapping
Ben Warren
. This meant a reduced pace and a long first pitstop for Joe but despite this set back the Maltese driver still maintained a decent lead throughout. By mid distance Loknovski had made it up to 3rd and eventually over took Morris for 2nd. However another error from the Estonian driver saw him drop to 3rd in the closing stages and an incident with the lapped
Kieran Ryan
put pay to any last gasp attempt to recapture 2nd. At the finish Consiglio crossed the line 27 seconds ahead of championship rival Lee Morris. Morris had definitely outperformed his car at Monza and in doing so minimised the pain of yet another dominant Consiglio win. With Jason Muscat once again disconnecting and Jundt only managing 8th, Nordsjoen were now only 1 point behind
Red Archer
in the Constructors Championship.
In many ways the Spanish Grand Prix represented a turning point in the Drivers Championship. Technical issues meant both Lee Morris and Jason Muscat were unable to enter the event and thus Joe Consiglio found himself with a massive opportunity to take the lead in the standings. As expected Consiglio lined up on pole position alongside Nordsjoen reserve driver Tom Parker. David Jundt qualified 3rd whilst Muscat's replacement for the rest of the season Gregg Lawson managed 4th on the grid. A clean start saw everyone get away in their respective grid positions. The Nordsjoen drivers had opted to go for a 3 stop strategy and duly pulled away from the 2 stopping Red Archer's in the opening laps. Consiglio set a blistering pace at the front but unfortunately Parker suffered a disconnection after the first round of pitstops. By two thirds distance Consiglio was 30 seconds ahead of Jundt and looking unstoppable for the victory. However on lap 48 the lapped Ryan Walker tagged Consiglio into a spin which sent the Nordsjoen backwards into a wall. As well as the lost time spent in the gravel pit Consiglio had to endure a lengthy pitstop to repair his rear wing. The 2009 champion emerged from the pits only 3 seconds ahead of Jundt with 18 laps to go. Fortunately Consiglio still found plenty of pace in his damaged car and after some time to settle began to extend the gap to the Red Archer once again. So after a dramatic final stint Consiglio took the chequered flag a healthy 15 seconds ahead of Jundt in 2nd. Lawson finished his first race for Red Archer in an impressive 3rd.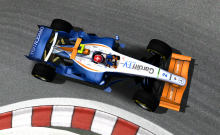 A week later at the classic
Spa-Francorchamps
circuit
Joe Consiglio
was once again untouchable in qualifying. The Maltese driver led another
Nordsjoen
front row, this time taking pole position by a massive 1.3 seconds.
David Jundt
was 3rd on the grid with
Dave Carr-Smith
just edging out
Lee Morris
for 4th. At the start the two Nordsjoen's got off the line cleanly but behind was a different story.
Sam Millar
collected Lee Morris on the approach to La Source, triggering more accidents further down the grid. Morris managed to trundle back to the pits but the
Draig
pitcrew couldn't repair his car's heavily damaged suspension. With Morris out of the race Consiglio put the hammer down up front and by the end of lap 2 was already 4 seconds in the lead. With Consiglio pulling away at over a second a lap all eyes turned to the fight for P2 between
Pavel Loknovski
and David Jundt. With Nordsjoen and
Red Archer
still locked in the Constructors championship battle, both drivers fought hard for the runner-up spot and those vital extra points. In the end it was Jundt who came out on top, ensuring Red Archer still held a slight advantage over Nordsjoen in the standings. After leading every lap of the race Consiglio took his 8th win of the season in style. With Morris not scoring, the Nordsjoen driver was now 19 points in the lead with only 2 rounds to go.
Joe Consiglio headed to the Dutch Grand Prix knowing that a second place finish would guarantee him the title. Qualifying saw the Maltese driver take his tenth pole of the year, ahead of David Jundt. Lee Morris qualified 3rd but due to a grid penalty had to start the race in 14th. At the start Consiglio got to the first corner first, whilst team-mate Pavel Loknovski moved up from 3rd to 2nd. At the end of lap 1 Consiglio led a Nordsjoen 1-2 and with Jundt stuck behind Dave Carr-Smith things were looking very good for the Italian team. However Loknovski was suffering from serious lag issues which eventually led to the Estonian's retirement before mid distance. By the first round of pitstops Morris had worked his way up to 4th. Unfortunately the Englishman made a mistake at the fast turn 7 kink and crashed out of the race. Consiglio thereby clinched his 2nd Superleague World Drivers' Championship and took victory over a minute ahead of Jundt. Gregg Lawson rounded out the podium and with Loknovski's accident, Red Archer took a 10 point advantage over Nordsjoen in the Constructors Championship.
The final race of the season was held in Singapore. With an almost full compliment of drivers on the grid all eyes were on the Constructors Championship fight between Red Archer and Nordsjoen. Newly crowned champion Joe Consiglio took pole position, a crushing 1.9 seconds ahead of David Jundt. Jyri Lylykorpi was drafted in to drive the #0 Nordsjoen at the very last minute and despite almost no preparation time did a remarkable job to line up 3rd on the grid. At the start Consiglio surged into turn 1 comfortably ahead of the fast starting Mark Wicks in 2nd. As Consiglio once again drove into the distance, Lylykorpi made his way up to 2nd on lap 2. However Lylykorpi's lack of track time finally caught up with him and an accident ended the Finn's race before mid distance. With Jundt holding 2nd and Gregg Lawson finishing solidly in the points, Red Archer took the Constructors Championship crown for the first time in their history. Consiglio claimed his 10th win of season as Lee Morris rounded out the podium for Draig.
Teams and drivers
Superleague Team
Base
Constructor
Chassis
Engine
Tyre

No.

Race Drivers
Rounds
Test/Reserve Driver(s)
Nordsjoen Racing
Cardiff, UK
Nordsjoen
NR004
Mercedes-Benz FO-108X

P

0
Jyri Lylykorpi
1-4, 6-10, 20
Pavel Loknovski
Tom Parker
Georgios Davakos
Pavel Loknovski
11-16, 18-19
Tom Parker
17
2
Joe Consiglio
All
Woods Racing
Croydon, UK
Woods
WR11a
Mercedes-Benz FO-108X

P

3
Mark Wicks
1-18, 20
Dan Rusu
Boyd Bryson
Gregg Lawson
Boyd Bryson
19
4
Kieran Ryan
All
Red Archer Virtual Racing Team
Rethymno, Greece
Red Archer
RA211
Renault RS29

P

5
Jason Muscat
1–10, 12-16
Nikos Evangelidakis
Leontin Nemet
Nikos Evangelidakis
11
Gregg Lawson
17-20
6
David Jundt
All
Constant Racing
St. Helens, UK
Constant
CR-SL11
Renault RS29

P

7
Mark Stanton
All
Luis Fernando Laaff
Teemu Toikka
Robert Rose
8
William Ponissi
1–5, 8, 14, 16-20
Luis Fernando Laaff
6-9
Teemu Toikka
13, 15
Synergetic Motorsports
Belfast, UK
Synergetic
SM-11
Ferrari 056

P

9
Christoph Lichtenstein
1–14, 18-20
Ryan McConkey
Liam Hatchell
Mal McKee
Ojay Clark
16
10
Sam Millar
1–8, 12-16, 18
Ryan McConkey
11, 15
Ojay Clark
19-20
Computrac Motorsports
Aberdare, Wales
Computrac
CM-2011
BMW P867

P

11
Gavin Thomas
1–3, 9-20
Kenney Lybeer
William Tringas
12
Wayne Mullins
1–5, 8-16, 18-20
William Tringas
17
Draig Racing
Aberdare, UK
Draig
DR002
Ferrari 056

P

14
Lee Morris
1–16, 18-20
Sean Scott
Matt Clipp
Matt Clipp
17
15
Ryan Walker
1–14
Phil Perkins
15-20
ST Racing
Chandler's Ford, UK
ST Racing
STR02-11
BMW P867

P

16
Mark Fuller
1–2, 4, 6-8, 10-13, 15, 17-18, 20
Luke McKee
Viesturs Priede
Luke McKee
3, 5, 9
Viesturs Priede
19
17
David Stanton
All
European Williamson Dynamics GP
Berlin, Germany
Williamson
WDF1.11/B
Mercedes-Benz FO-108X

P

18
Tim-Oliver Wagner
1-5, 10-11
Adam Smith
Chris Allen
Teemu Toikka
Teemu Toikka
6-9
Chris Allen
13-15
19
Ojay Clark
1–13, 15
Nijo Racing
Nantwich, UK
Nijo
NR11B
Toyota RVX-09

P

20
Ashley Walsh
5
Ben Warren
Chris Williamson
Tom Parker
Chris Williamson
2, 6, 9-10, 18
Tom Parker
1, 3-4
Ben Warren
7-8, 11-13, 16, 19-20
Tommi Koivunen
14, 17
21
Abdel Damghi
2-10, 16-20
Chris Williamson
1, 11-15
Triple-Double Racing
Oxford, UK
TDR
TDR001
Toyota TVX-09

P

22
Phil Perkins
1–8, 10-14
Ric Scott
Philip Cullen
Adam Rouse
Ryan Walker
15-20
23
Adam Rouse
1-6
Bart De Vos
7-12, 14-18, 20
Ric Scott
13, 19
Midnight Motorsport
Manchester, England
Midnight
MM-01
Renault RS29

P

24
Dave Carr-Smith
1–4, 6-8, 10, 12-20
Petter Kaasa
Petter Kaasa
11
25
Nick Rowland
1–4, 6, 9-16, 19-20
Adam Rouse
18
† Mal McKee replaced himself as test/reserve driver with Liam Hatchell after the Japanese grand prix.
‡ Adam Rouse pulled out of the competition after the Austrian grand prix.
† Philip Cullen parted ways with Triple-Double Racing to free up a driver slot for Ric Scott in June.
New entries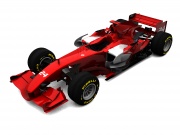 The first new team to secure a place in the Superleague was Nijo Racing, owned and managed by Chris Williamson. Nijo came straight in from a successful Masters season, bypassing the Supercup, and looking eager to carry that success into the Superleague. Initially having signed Tom Parker and Ashley Walsh, the team underwent many changes in driver line-up in the first half of the season, with Parker pulling out after only a few races.
Triple-Double Racing was the next team to secure a place in the Superleague, founded and initially managed by Ben Warren before Phil Perkins took the reins scant days before the opening race. Driver Jyri Lylykorpi was initially linked with the team, however the team secured GPVWC stalwarts Adam Rouse and Phil Perkins.
The final new team to secure a place was Midnight Motorsport. Driver Nick Rowland's brainchild, the team managed to secure both himself and experienced racing driver and manager Dave Carr-Smith, which seemed to promise a strong team in bid for the Constructors' and Drivers' Championships. Reliability problems and bad luck were the order of the day for the beginning of the season for Midnight, however.
Team changes
Driver changes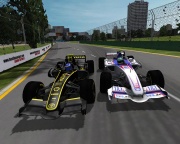 2011 Calendar
Round
Race Title
Grand Prix
Circuit
Conditions
Mod
Date
Time
Track time
GMT
1
Australian Grand Prix
Australian GP
Albert Park Grand Prix Circuit, Melbourne
Sunny
rFactor v1255
24th March
 ???
19:00
2
Abu Dhabi Grand Prix
Abu Dhabi GP
Yas Marina Circuit, Yas Island
Sunny
rFactor v1255
31st March
 ???
19:00
3
Japanese Grand Prix
Japanese GP
Suzuka Circuit, Suzuka, Mie
Sunny
rFactor v1255
7th April
 ???
19:00
4
Chinese Grand Prix
Chinese GP
Shanghai International Circuit, Shanghai
Sunny
rFactor v1255
21st April
 ???
19:00
5
South African Grand Prix
South African GP
Kyalami Grand Prix Circuit, Gauteng
Sunny
rFactor v1255
5th May
 ???
19:00
6
Austrian Grand Prix
Austrian GP
A1-Ring, Spielberg
Sunny
rFactor v1255
12th May
 ???
19:00
7
French Grand Prix
French GP
Circuit de Nevers Magny-Cours, Magny-Cours
Sunny
rFactor v1255
19th May
 ???
19:00
8
Monaco Grand Prix
Monaco GP
Circuit de Monaco, Monte Carlo
Sunny
rFactor v1255
2nd June
12:30 pm
19:00
9
British Grand Prix
British GP
Silverstone Circuit, Northamptonshire
Sunny
rFactor v1255
16th June
 ???
19:00
10
Bahrain Grand Prix
Bahrain GP
Bahrain International Circuit, Sakhir, Bahrain
Sunny
rFactor v1255
23rd June
 ???
19:00
11
San Marino Grand Prix
San Marino GP
Autodromo Enzo e Dino Ferrari, San Marino
Sunny
rFactor v1255
7th July
 ???
19:00
12
Turkish Grand Prix
Turkish GP
Istanbul Park, Istanbul
Sunny
rFactor v1255
14th July
 ???
19:00
13
Mexican Grand Prix
Mexican GP
Autodromo Hermanos Rodriguez, Mexico City
Sunny
rFactor v1255
28th July
 ???
19:00
14
Canadian Grand Prix
Canadian GP
Circuit Gilles Villeneuve, Montreal
Sunny
rFactor v1255
25th August
 ???
19:00
15
Brazilian Grand Prix
Brazilian GP
Autódromo José Carlos Pace, São Paulo
Sunny
rFactor v1255
1st September
 ???
19:00
16
Italian Grand Prix
Italian GP
Autodromo Nazionale di Monza, Monza
Sunny
rFactor v1255
15th September
 ???
19:00
17
Spanish Grand Prix
Spanish GP
Circuit de Catalunya, Barcelona
Sunny
rFactor v1255
29th September
 ???
19:00
18
Belgian Grand Prix
Belgian GP
Circuit de Spa-Francorchamps, Spa
Sunny
rFactor v1255
6th October
 ???
19:00
19
Dutch Grand Prix
Dutch GP
Circuit Park Zandvoort, Zandvoort
Sunny
rFactor v1255
13th October
 ???
19:00
20
Singapore Grand Prix
Singapore GP
Marina Bay Street Circuit, Singapore
Sunny
rFactor v1255
20th October
 ???
19:00
Changes
Rule changes
The R&D system was tweaked to include a new area of car development - 'Draft', which focused on car's ability to closely follow another car.
Rules on 'punting' were tightened after the Australian Grand Prix, so that anyone causing a minor collision had to surrender any positions gained as result or face a penalty.
Qualifying
2011 saw a dramatic change to the Superleague qualifying system with the introduction of a 2 part session with a knockout element. The first 20 minutes session would be open to all drivers, with only the top 12 runners going through to the final 15 minutes Q2 session.
Along with the new qualifying format, parc ferme rules were introduced meaning that most setup options become locked after each driver's first qualifying lap.
Results and standings
Grands Prix
Scoring system
Points are awarded to the top 10 classified finishers.
| | | | | | | | | | | |
| --- | --- | --- | --- | --- | --- | --- | --- | --- | --- | --- |
| Position |  1st  |  2nd  |  3rd  |  4th  |  5th  |  6th  |  7th  |  8th  |  9th  |  10th  |
| Points | 15 | 12 | 10 | 8 | 6 | 5 | 4 | 3 | 2 | 1 |
Drivers standings
Key
Colour
Result
Gold
Winner
Silver
2nd place
Bronze
3rd place
Green
Points finish
Blue
Non-points finish
Non-classified finish (NC)
Purple
Did not finish (Ret)
Red
Did not qualify (DNQ)
Did not pre-qualify (DNPQ)
Black
Disqualified (DSQ)
White
Did not start (DNS)
Race cancelled (C)
Light blue
Practiced only (PO)
Blank
Did not participate (-)
Excluded (EX)
Withdrew entry before the event (WD)

Bold - Pole
Italics - Fastest lap
† Drivers did not finish the Grand Prix, but were classified as they completed over 75% of the race distance.
‡ Ojay Clark finished 6th but was disqualified from the race for excessive corner-cutting. Positions behind him were therefore promoted by one place.

Constructors standings
Pos
Constructor
Car
No.
AUS

UAE

JPN

CHN

RSA

AUT

FRA

MON

GBR

BHR

RSM

TUR

MEX

CAN

BRA

ITA

ESP

BEL

NED

SIN

Points
1
Red-Archer Renault
5
16
3
8
2
2
1
Ret
5
3
2
Ret
Ret
1
6
Ret
Ret
3
4
3
5
305
6
4
4
4
6
6
4
5
7
5
3
4
3
2
2
3
8
2
2
2
2
2
Nordsjoen-Mercedes
0
7
9
Ret
14
-
Ret
12
Ret
Ret
Ret
3
10
6
4
2
3
Ret
3
Ret
Ret
292
2
13†
2
2
4
3
2
1
12†
1
4
2
1
5
1
1
1
1
1
1
1
3
Draig-Ferrari
14
1
1
1
1
1
3
2
11†
2
1
1
2
3
Ret
4
2
10
Ret
Ret
3
215
15
11
12
15
18
10
10
9
Ret
7
6
Ret
6
Ret
Ret
8
Ret
8
Ret
Ret
Ret
4
Midnight-Renault
24
2
Ret
6
3
-
Ret
Ret
1
-
5
8
5
7
3
5
4
4
Ret
4
6
166
25
Ret
Ret
5
Ret
-
Ret
-
-
4
Ret
6
4
4
Ret
Ret
6
-
5
5
4
5
Woods-Mercedes
3
9
7
7
10
8
5
7
4
10
9
7
11
11
5
Ret
Ret
5
10
12
9
82
4
8
10
12
13
5
6
8
14†
DNS
12
Ret
14
12
7
Ret
5
Ret
13
13
Ret
6
TDR-Toyota
22
Ret
15
Ret
Ret
Ret
14
Ret
13†
-
11
9
12
9
9
Ret
7
Ret
Ret
8
10
81
23
6
6
Ret
7
7
7
3
6
6
7
5
7
Ret
Ret
Ret
Ret
Ret
6
10
7
7
Synergetic-Ferrari
9
12
11
9
9
12
Ret
Ret
3
Ret
8
10
9
Ret
8
12
Ret
-
Ret
6
Ret
64
10
3
Ret
3
Ret
9
8
4
Ret
-
-
Ret
Ret
Ret
Ret
Ret
Ret
-
Ret
Ret
8
8
Williamson-Mercedes
18
Ret
-
Ret
15
-
Ret
-
-
Ret
Ret
Ret
-
Ret
Ret
11
52
19
5
5
Ret
8
4
11
6
2
8
10
DSQ
8
8
-
9
9
Constant-Renault
7
Ret
8
10
5
11
9
Ret
9
9
16
Ret
Ret
Ret
Ret
6
Ret
6
9
7
14
33
8
14
14
Ret
17
Ret
Ret
Ret
Ret
Ret
-
-
-
Ret
12
Ret
10†
11
Ret
14
Ret
10
ST-BMW
16
15
Ret
Ret
16
-
13
11
10
Ret
15
14
16
13
-
10
-
Ret
Ret
Ret
Ret
14
17
Ret
13
13
11
Ret
Ret
Ret
Ret
Ret
17
11
15
10
Ret
7
9
9
8
Ret
12
11
Computrac-BMW
11
Ret
Ret
14
-
-
-
-
-
12
14
Ret
Ret
15
10
Ret
Ret
Ret
Ret
11
11
9
12
10
Ret
11
Ret
Ret
-
-
8
13
Ret
Ret
13
Ret
Ret
Ret
Ret
Ret
7
Ret
Ret
12
Nijo-Toyota
20
Ret
16
Ret
Ret
Ret
12
Ret
Ret
11
Ret
13
Ret
Ret
Ret
-
Ret
7
11
Ret
13
7
21
Ret
Ret
Ret
12
Ret
Ret
10
Ret
Ret
13
12
Ret
14
11
Ret
Ret
Ret
12
9
Ret
Pos
Constructor
Car
No.
AUS

UAE

JPN

CHN

RSA

AUT

FRA

MON

GBR

BHR

RSM

TUR

MEX

CAN

BRA

ITA

ESP

BEL

NED

SIN

Points

Key
Colour
Result
Gold
Winner
Silver
2nd place
Bronze
3rd place
Green
Points finish
Blue
Non-points finish
Non-classified finish (NC)
Purple
Did not finish (Ret)
Red
Did not qualify (DNQ)
Did not pre-qualify (DNPQ)
Black
Disqualified (DSQ)
White
Did not start (DNS)
Race cancelled (C)
Light blue
Practiced only (PO)
Blank
Did not participate (-)
Excluded (EX)
Withdrew entry before the event (WD)

Bold – Pole
Italics – Fastest Lap
† Cars did not finish the Grand Prix, but were classified as they completed over 75% of the race distance.
2011 Car Gallery