Ben Warren
From GPVWC Wiki
Ben Warren is a British sim-racer from Oxfordshire, England.
Ben is currently signed to Woods Racing for the 2014 Superleague championship as their test/reserve driver. Ben also manages Formula Challenge team Velocity Racing.
He has previously been a main, or test/reserve driver for Constant Racing, ST Racing, Triple-Double Racing, Nordsjoen Racing and Nijo Racing in the Superleague. He also drove for Nordsjoen Racing, Innervision and PB Racing in the Supercup, and for Innervision, Multi21 Racing Team and SimInk Motorsport in the Formula Challenge series.
Beginnings
Warren began his online racing career in 2008, racing in some smaller leagues hosted at GPRO using EA's 'F1 Challenge 99-02', along with current and former GPVWC drivers such as Tom Parker, Chris Williamson, David Jundt, Simon Cattell, Tim-Oliver Wagner and Scott Bennett. Warren and company then progressed to rFactor for future seasons, and still race using various different mods today.
Warren was born with a rare disability called Sacral Agenesis, meaning the bottom of Warren's spine did not form properly before birth, leaving him paralysed from the waist down, and is a full-time wheelchair user. Despite his disability, Warren uses a Roso F1 wheel with a Logitech G27 base, which has four paddles on the back of the wheel, two of which are progressive paddles which he uses for the throttle and brake, and uses the other two paddles for shifting gears. Despite his difficulties, Warren is a proud disabled sim-racer, and prides himself on being able to race his able-bodied counterparts to the best of his abilities.
GPVWC
Megane Winter Series 2009
Warren discovered the GPVWC league just before the beginning of their Renault Megane Winter Series in late 2009, and promptly entered a three-car team called Triple-Double Engineering, with himself driving alongside Tom Parker and Nikos Evangelidakis. Warren himself competed at Ahvenisto, Mo-I-Rana and Imola, and thoroughly enjoyed competing in the large, competitive fields, and enjoyed some good racing.
Masters Series 2010
Warren competed once again for Triple-Double Engineering in the GPVWC Masters Series in 2010 which used the BMW E90 mod, partnered again with Nikos Evangelidakis. Warren was only able to compete in the last two events at the A1-Ring, and Silverstone. At Round 10 (Feature race), Warren qualified 13th of the eighteen car field, but made a great start, finding himself up to 7th place about halfway round Lap 1. However, he was hit from behind by Gavin Thomas, and dropped a few positions. After some great battles with Pavel Loknovski and Kieran Ryan, Warren found himself defending his 10th place position from David Jundt and Jason Muscat. Muscat found his way through, but he was able to fend off Jundt for a solid 11th place finish in his first Masters race. The Round 11 Sprint race was disastrous for Warren though, and after accidentally jumping the start and earning himself a drive-through penalty, some contact from other cars left his car heavily damaged, he was forced to call it a day.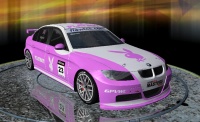 Moving to the final two races of the season at Silverstone, Warren was disappointed with qualifying for the Round 12 Feature race, lining up 16th of the nineteen runners, almost a second slower than his free practice time. Warren made a good start, but was forced to slam on the brakes hard to avoid a slow starting Mal McKee, sending Warren down to dead last, before making his way past both Draig Racing cars before the end of Lap 1. Warren had found his pace again during the race, and duly set about chasing down some of the cars ahead of him, making his way past team mate Evangelidakis, Luke McKee, and Adam Smith before the end of the race. However, he just missed out on points, finishing in 13th place, three seconds behind Gavin Thomas. Warren started 7th for the reversed grid Sprint race, but made a mediocre start, and found himself passed by a few cars during Lap 1. However, Warren again made his way past a few slower cars, and found himself running in 9th place, in good contention for a solid haul of points. With two laps to go, Warren was slowly closing in on Mark Fuller for 8th place, but also had the faster duo of Ojay Clark and Jason Muscat closing in on him. Warren was able to fend off the faster cars behind, and pounced on a second to last corner error from Fuller to take 8th place in the sprint, and his best finish in a GPVWC race to date.
Warren finished 23rd in the Drivers standings after competing in just two events, and Triple-Double Engineering finished 11th in the Constructors standings.
Masters Series 2011
Warren is driving for Nijo Racing in the 2011 Master Series, alongside team boss Chris Williamson and Pavel Loknovski. Once again, the series is using the BMW E90 cars.
With 40 cars turning up for the opening races at the very short Norising track, finding space to get a clear lap during qualifying proved very difficult for some, including Warren, and he had to settle for a disappointing 34th on the grid, over a second off his personal best time in practice. The Feature race wasn't a disaster, and Warren avoided a few incidents, set some reasonably competitive laps whilst being involved in some close racing, and came home 18th, just 3 places off the points. The Sprint race however, was a disaster. Lining up 22nd after having the grid reversed from the previous race result, Warren was t-boned just before Turn 1, dropping him down to dead last. It seemed every time Warren made any progress through the field, he'd be caught up in an incident, whether one of his own doing or someone else's. He came home a disappointing 24th, which to rub salt into the wound even more, became 26th after being award a 20 second time penalty for causing an avoidable collision, a penalty which Warren was unhappy about, but accepted it nevertheless.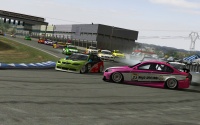 Warren felt a little more comfortable in the car as the Masters field headed to China for Round 3 and 4 at Goldenport. Qualifying was again difficult for Warren though, unable to get a clean lap in, he lined up 26th on the grid for the Feature race. Warren again enjoyed some close battles in the Feature, regularly dicing with Mark Stanton, Ric Scott and more through the whole race. Sadly Warren came home 16th, just place out of a points scoring position, finishing just 4 tenths of a second behind Scott. Once again, the Sprint race was more troublesome, which included a heavy punt from Erik Tveit, and Warren finished in 24th.
Rounds 5 and 6 took place at Zolder, and Warren took his best grid position of the season so far in 20th place, but again suffering from traffic problems, limiting the potential Warren hoped he might be able to show in the car. The two previous Feature races had gone well for Warren, but this one turned out to be a disaster for the Nijo driver. After making a poor start, Warren had contact at Turn 1 with Ben Morgan, dropping him down the field, before getting a huge smash from behind from Scotty Moore, making the car extremely difficult to drive for the rest of the race. After a couple of nice battles lower down the order, Warren came home in 24th. The Sprint race was once again a disaster also. Warren lined up 8th on the grid, and made a good start, and looked like he could be battling for a top 5 position. However, a small tap from Abdel Damghi set off a chain reaction, and many cars piled into Warren, causing unrepairable suspension damage, and a puncture, dropping him to dead last. He did the best he could from then on after repairing as much of the car as possible, and limped home to 29th place.
Warren was forced to miss the next event at Istanbul, but returned for the Watkins Glen races. Warren admitted for the first time this season he finally felt at one with the car at the Watkins Glen track, and was finally able to get a clean lap in during qualifying! He took an excellent 6th place on the grid, easily his best grid position of the season so far. Warren had an average getaway and dropped down to 10th by the end of Lap 1. With a few drivers in front being involved in crashes or other misfortune, Warren found himself in a battle for 4th, 5th and 6th positions between David Jundt, Mark Stanton and himself. The three drivers traded positions a few times, before eventually Warren came home just behind the other too, taking easily his best Masters finish in 6th place, scoring his first points of the season in the process. However, as per usual, the Sprint race was a disaster, and after being smashed into by many different drivers, Warren was forced to call it a day with suspension damage on Lap 10. Two very different outcomes, but Warren was still very pleased with his performance in the Feature race.
Superleague 2010
With the Megane Winter Series over, Warren was looking to make the step up to securing a role in the Superleague. After being approached by co-team owners Joe Consiglio and Mark Stanton, Warren became the reserve and test driver for Constant Racing. He took part in all the pre-season tests for the team, and was set to make his Superleague début for the team in Round 2 at China, but unfortunately Ben's racing wheel stopped working, meaning Constant could only field one car for that race, and Warren would have to wait to make his Superleague début.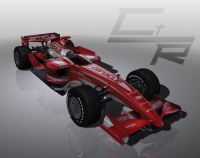 Before Round 12 in Mexico, Warren was approached by ST Racing boss Mark Fuller to race for the team alongside Chris Williamson. Constant Racing had no problem allowing Warren to race, and released him from his contract to sign one with ST. Warren qualified 15th of the nineteen runners, ahead of teammate Williamson in 16th place. Warren made a reasonable start, but was nudged from behind by Williamson Dynamics driver Adam Smith at Turn 1 and forced onto the grass, but only losing one position, which was to Smith. The ST Racing driver quickly got his revenge, with a cheeky pass around the outside of Smith at the start of sector 2 to move him up to 13th place. Warren settled quickly into his position, and was able to slowly put a gap between himself and teammate Williamson who was running 14th, and under pressure from a recovering William Ponissi. Lap 4, and Warren found himself on the cusp of a points position already after an incident involving Sam Millar and Nick Rowland elevated the ST Racing driver up to 11th place. Meanwhile, Ponissi had made his way past Williamson and was beginning to close in on Warren. Despite moderate pressure from the Constant Racing driver, Warren maintained a one-second gap between himself and Ponissi, and was lapping consistently, and relatively mistake free in a slower car, compared to Ponissi in a faster car, but often making small errors in the twisty sections of the track. Lap 9 though, and the promising beginning to Warren's Superleague début came to an end. After exiting the twisty section of the circuit, Warren got on the power just a little too early, and his car under-steered onto the grass, and speared into the concrete wall on the left just before the final high speed turn, ripping the front wing and nose away from his car. Dejected, Warren got his car repaired in the pits and rejoined in 14th place. Just one lap later though, and a graphics driver issue with Warren's laptop meant he was unable to continue in the race. Despite his incident on Lap 9, a fairly high attrition rate throughout the field meant points were definitely still going to be up for grabs had Warren been able to continue.
Warren remained with ST Racing for the remainder of the season, and was set to stand in at a few more Superleague races for the team. However, laptop performance issues still lingered, and he was sadly unable to compete in any more races that season.
Superleague 2011
Warren initially decided to enter the world of team management, and secured a place on the 2011 Superleague grid for his new team Triple-Double Racing. He also hired two experienced drivers in Phil Perkins and Adam Rouse to drive for him, with Warren taking the test/reserve spot. Triple-Double Racing also entered a team into the 2011 Supercup, with Warren himself, and Pavel Loknovski taking the seats there. Just before the start of the season however, Warren parted company with TDR and gave his team manager spot up, deciding it would be in the best interests of both himself, and the team.
Not too long after, the Englishman became the test and reserve driver for another new team, Nijo Racing, managed by Chris Williamson. Warren made his first outing in Nijo colours at the in-season test at Fuji.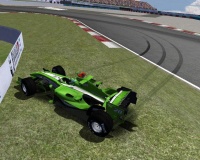 Warren made his competitive début for Nijo Racing at Round 7 in Magny Cours. Sadly, Warren struggled mightily with wheel problems, as well as just being genuinely off the pace, and qualified 19th of the twenty runners. Due to penalties for other driver's from previous incidents in previous races, Warren actually started the race in 16th on the grid. Despite his problems, Warren made a lightning quick start, and found himself up to 13th place even before turn 1. However, he quickly found himself in a sandwich of cars, with Mark Fuller inside of him. Fuller's car under-steered, pushing both Warren, and Ryan Walker into the Turn 1 gravel trap. Warren recovered, albeit now back down in 18th. Sadly, another incident involving Fuller had occurred at the Adelaide hairpin, and with cars laid out all over the track, Warren had nowhere to go, and lost his front wing hitting Fuller's slowly moving car. After getting repairs, and a brief battle with Christoph Lichtenstein, Warren's wheel problems returned, and he was forced to retire on Lap 2.
He also raced at the next round in Monaco, one of Warren's self confessed favourite tracks, and felt confident before the event of showing much better pace. However, qualifying was once again a disaster, and he qualified 19th of the twenty-two starters. He made a good getaway again at the start though, and was able to dodge numerous incidents in front of him, and remarkably found himself up to 10th place just before the start of Lap 2. However, a small brush with the wall cost him his front wing, but even after repairs, Warren found himself in a promising 13th position, and fending off the much faster Jason Muscat and Joe Consiglio for all his worth. Muscat and Consiglio were both also caught up in early incidents. Very controversially, the race was restarted, and Warren's promising position came to nothing. At the restart, there were no such incidents, and Warren stayed in 19th place. His race once again ended prematurely though, after a big crash on Lap 2, the car was undrivable, making it three DNFs in three Superleague starts for Warren.
Warren returned to his reserve role for the next few races, until Round 11 at Imola, where he replaced regular Nijo driver Abdel Damghi who was on holiday. Much more on the pace and feeling much more prepared than usual, Warren qualified 19th of the 23 starters, but much closer to the front running pace than usual, and out-qualified team mate Chris Williamson who was 21st. He made a good start, and avoided a few incidents, and found himself in 15th by the end of Lap 1. A couple of small offs on cold tyres and brakes dropped Warren down to 18th though a few laps later, and a small brush with the wall was enough to see the Englishman again lose a front wing. Warren spent much of the race on his own, but running at a solid, and consistent pace, slowly but surely closing down on his rivals. After leapfrogging Mark Fuller in the pits, Warren found himself in 14th place, and closing in on team mate Williamson near the end of the race. After a brief team discussion, Williamson himself decided to let the faster Warren through into 13th place on the last lap. Unintentionally though Warren out-braked himself at Piratella, allowing Williamson back through! Despite the mistake, the Nijo cars both crossed the line in formation, finishing 13th (Williamson) and 14th (Warren). With the disqualification of Williamson Dynamics driver Ojay Clark from the race, Warren was elevated to 13th place. Although neither driver scored points this round, it was still good for the team to get both cars to the finish, and for Warren in particular to get his first finish under his belt. Although the result didn't necessarily show it, Warren's race pace was fairly solid, and it was clear the Englishman upped his game slightly for this race.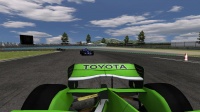 Warren once again took to the track for Nijo Racing at Round 12 in Turkey, another track he enjoys. Qualifying went as well as it could, and he started the race 18th of the 21 runners, ahead of both ST Racing cars, and teammate Williamson. Warren made another customary good start, and was up to 15th by the end of Lap 1. This time though, Warren kept it on the track in the opening laps, and was able to keep in touch with the cars ahead of him. Due to some incidents and penalties given to drivers in front of him, Warren found himself slowly moving up the order throughout the race, and as his fuel level dropped, his laptimes consistently improved. Again, with consistent pace, and drivers making scheduled, and unscheduled stops in front of him, Warren found himself up into a great 9th place, holding off the Woods Racing cars of Mark Wicks and Kieran Ryan, as well as other cars too. 2 laps before his first planned pitstop though, heartbreak struck for Warren, suffering from a game crash, forcing him into instant retirement. Easily Warren's best showing in the Superleague so far, he was understandably very disappointed to be forced into retirement due to simple game crash.
Moving to the next round at the difficult Mexico circuit, Warren's pace during practice looked promising, and hoped to qualify deep in the midfield. However, lag issues prevented Warren from completing any clear laps during qualifying, and he had to start the race 24th and last. With both Joe Consiglio and Christoph Lichtenstein joining him at the back of the grid due to penalties, Warren was ready to try and make his way through the field. However, a slow start from Ric Scott meant Consiglio had to brake heavily to avoid him, and came almost to a complete stop in front of Warren. With nowhere to go, the Nijo car bumped into the Nordsjoen, sending him sideways into the path of Lichtenstein, costing the young German his front wing. Warren was surprisingly able to continue without damage, and actually gained a few positions, with teammate Williamson going off sideways. Warren was experiencing lag problems with his laptop throughout the time he was in the race, but ran relatively close behind Ric Scott's Triple Double-Racing car. Unfortunately for Warren, the lag increased further, and a couple of half spins cost Warren a few positions, and eventually his rear wing after a high speed crash, very similar to how he retired from the Mexico GP last season. What initially looked to be a promising event for Warren, started, and ended in disaster.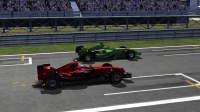 Warren returned to the cockpit for Nijo at the Italian Grand Prix, but had problems in qualifying, limiting him to just 2 runs, leaving him last on the grid. Warren made another customary good start, and after various incidents on Lap 1, incredibly found himself go from 21st on the grid, up to 11th by the end of Lap 1. However, a freak rear tyre puncture caused by a loose front wing from an earlier incident dropped Warren down to 17th. He was then involved in a good scrap between Bart De Vos and David Jundt, who were both caught up in earlier incidents, and were carrying some unrepairable damage. Sadly, Warren's race came to a premature end once again, after spinning into the barrier at the second Lesmo, his car died on Lap 7.
He returned to the cockpit 2 rounds later at Zandvoort, the penultimate race on the calendar, and was instantly showing new found pace, clearly feeling more at one with the car around the twisty track. He qualified 15th, although admitted he made a mistake on his final qualifying run which would have put him into the top 12, and through to Q2 for the first time. Warren quickly put his disappointment aside and concentrated on the race in hand. He made another customary good start, but unfortunately for him Ojay Clark did not see the fast starting Nijo behind him, and swerved across track, slowing Warren's momentum dramatically, and dropped him down to 17th by the end of Lap 1. Warren's race pace appeared solid though, and he set about catching the battling Gavin Thomas, teammate Abdel Damghi and Ric Scott. Lap 3, and Warren made a pass at the beginning of sector 3 on Ric Scott, moving him up to a then 15th place. Although Warren was reeling Thomas and Damghi in, he was under pressure from Phil Perkins who had a significant straightline speed advantage, but with good defensive driving was able to keep the Draig Racing car behind him. However, a lag induced problem caused Warren to go off track and lose about 40 seconds, dropping him just behind William Ponissi. The duo had a good battle for a number of laps, with Ponissi's straightline speed rendering Warren unable to pass the Italian driver. Lap 18, and Warren was finally able to find his way past, but now found himself with a big gap between himself and the next car in front of Boyd Bryson. One lap later though, and Warren once again was forced into retirement, with more technical problems. Another disappointing race where Warren showed initial promise, but was unable to deliver.
Warren lined up for Nijo Racing in the final race at the unforgiving Singapore Grand Prix. Qualifying was difficult, and he lined up 20th of the 22 runners. Once again though, he made a decent start and was up to 18th by the end of Lap 1. Warren wasn't really on the pace, but kept himself out of trouble, and near the end of the race was able to pass both Christoph Lichtenstein and Mark Stanton. Surprisingly at a track such as this, the attrition rate was fairly low, meaning Warren's quest for his first Superleague points would have to continue, but he was still pleased to see the finish line for only the second time in Superleague, finishing in a respectable 13th place.
Superleague 2012
Warren has been announced as a test/reserve driver for championship contenders Nordsjoen Racing for the 2012 season. While he isn't expected to appear on the grid at all this season, no doubt he will hope to learn a great deal from working in a winning environment such as Nordsjoen.
Supercup 2010
Warren was set to compete for Constant Racing in the Supercup championship, but was unable to take part in any of the races.
Supercup 2011
Along with Pavel Loknovski, Warren was set to compete for Triple-Double Racing in the Supercup championship, but decided against racing for the time being. However, the English driver finally made his Supercup debut at Round 12, the Turkish Grand Prix. Warren took the second available seat for the famous Nordsjoen Racing outfit, teaming up with Ryan Walker.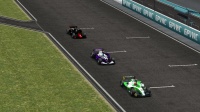 Warren was instantly showing good pace in the Supercup car and at Istanbul, and qualified 8th of the 24 drivers. He made a decent start at the beginning of the race, and remained in 8th place at the end of lap 1, in hot pursuit of Mineral GP stand in driver Kenney Lybeer for 7th place, and already pulling out a comfortable gap over Ric Scott. Warren remained relatively close behind Lybeer for most of the first stint, but now had Draig Racing driver Phil Perkins slowly but surely catching both of them up. 8th became 7th for Warren after Ihab Abbas got it all wrong at Turn 13 and had to pit early for repairs. Once Perkins closed up on Warren, a fantastic battle ensued, with Perkins taking the Nordsjoen driver with a daring move on the outside of Turn 4, only for Warren to fight back with a pass at the heavy braking Turn 12. The two squabbled for a few more laps, trading positions a couple more times before Perkins pitted on Lap 16. Warren decided to stay out one extra lap to try and leapfrog both Perkins and Lybeer, both of whom had now already pitted.
However, Warren's stop was a fairly slow one, after slightly overshooting his pit box, and also losing a few seconds with some small repairs to the car after light contact with Gregg Lawson on the opening lap. This meant Warren rejoined in 8th place, about 10 seconds behind 7th placed Perkins, but still with a comfortable 20 second gap ahead of the now 9th placed Tom Parker. The rest of the race Warren spent on his own, lapping consistently, but making little inroads on the battle ahead of him, but still maintaining the 20 gap to Parker. 8th place once again became 7th though, this time with the very unfortunate disconnection of race leader Bart De Vos. Warren remained in 7th place to the chequered flag, and was absolutely delighted to score points on his Supercup debut, showing genuine competitive pace, being involved in some hard, but clean battles, making few mistakes, and showing to the GPVWC paddock that he's beginning to make a big step in the right direction.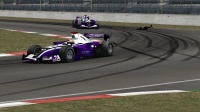 Warren qualified 9th of the 21 runners at the Mexican Grand Prix. He made a solid start, not losing any positions, but not gaining any. He spent much of the first lap side by side with Nijo driver David Jundt before settling back into position. A spin from Gregg Lawson moved Warren up to 8th, before dropping back down to 9th after a nice move from Ric Scott on the outside at the start of sector 2. After that, Warren settled into 9th place, keeping close behind Scott, but comfortably pulling out a gap between himself and the cars behind. A few laps later, Scott had a spin entering the twisty section of the track, moving Warren back up to 8th, and began to slowly close the gap between himself and the battle for 5th place between Parker, Lybeer and Jundt. Warren's progress was slightly hampered by a couple of half spins, but generally didn't lose too much time with his errors. Up front, retirements from Phil Perkins, Pavel Loknovski and Kenney Lybeer before Warren's pitstop elevated him to 6th place. After making his first and only pitstop on Lap 18, Warren lost just one place, and quickly regained 6th once everyone else had completed their pitstops. Warren now found himself about 10 seconds behind 5th placed Lawson, and 5 seconds ahead of 7th placed Ric Scott. While Warren was unable to make any inroads on the battle ahead of him, he was able to pull away from Scott by a few tenths a lap. With the retirement of leader Lewis Redshaw, Warren moved up to 5th place, and remained there for the rest of the race, although he nearly stole away 4th from Tom Parker on the last lap, who had lost his front wing. The Kernow Sport driver was able to keep his car on track, and take 4th place, just a second ahead of Warren. Warren's teammate Ryan Walker had won the race, meaning Nordsjoen had moved closer to both Malta Force GP and Nijo Racing in the constructors championship. 7th and 5th in his first two races, the Englishman was understandably pleased.
After a 3 week break, the Supercup teams and drivers arrived at Montreal, and Warren instantly showed some great pace, and finished the official practice session fastest of all the drivers. However, qualifying wasn't so smooth for the young Englishman, with his best qualifying time almost a second off his best practice time, and had to settle for 6th position on the grid. He didn't make the best of starts at the beginning of the race, with both Tom Parker and Sam Millar making their way past, but he was back up to 5th position after the retirements of Redshaw, Lawson and teammate Walker. After a brief battle with Gavin Thomas, Warren had a fairly lonely race the rest of the way, trying to close the gap between himself and Parker, but both driver's were having to save their brakes, so neither driver could really take the initiative in the battle. Meanwhile, 6th placed Ric Scott was closing in on the struggling Warren, and got the gap between them down to just 0.7 seconds before the Draig Racing driver had a spin, giving Warren plenty of breathing space again. Warren held on for another solid 5th placed finish, but after showing even more improvement, you could forgive him for being a bit disappointed that he was unable to challenge for a podium position.
The Supercup field travelled to the famous Interlagos circuit in Brazil for the next round, a track Warren admitted has never been a favourite of his. Warren wasn't quite as competitive as normal in the pre-race sessions, and had to settle for 10th place in qualifying. Warren made a decent start, but instantly had to take evasive manoeuvres to avoid a slow starting Ric Scott. This cost him a few positions at the start, but he settled in behind PB Racing driver William Tringas. Warren being the slightly faster car, tried on a few occasions to pass the earlier braking Tringas, but to no avail. After outbraking himself, Warren dropped down to 12th, behind Chris Williamson. The two English drivers again battled hard, again Warren appeared to be the faster of the two, and again his rival braking earlier than himself. After getting into Williamson's slipstream on the start/finish straight on Lap 10, Warren was caught out by Williamson braking early for Turn 1. Warren was able to react quickly to not run into the back of the Nijo Racing car, but unfortunately lost his front wing as he speared into the wall. After the pitstop repairs, Warren was down to 16th. Warren decided to make no more pit stops after that, and carried a heavy car round to the finish of the race, settling for 12th position. Without the incident, Warren had the race pace to challenge for another points finish, but in the end recorded his first non-points finish of the season.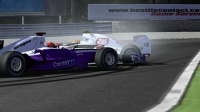 Monza was the next destination, and Warren appeared to be back on the pace, taking an impressive 5th position on the grid, in a large field of 26 cars. He made a solid start, and nearly passed Ojay Clark for 4th at Turn 1, but comfortably held onto 5th. However, a promising position was to be taken away quickly at the Variante Della Roggia, after a mistake from Lewis Redshaw who was in 2nd, and after Redshaw tried to recover, it left Warren with nowhere to go, and the two collided, robbing Warren of his front wing, and a chance of an excellent finish. Despite recovering to the pits and having his front wing replaced, his car had sustained some unrepairable damage, and he was unable to show the same pace he'd shown in practice, qualifying and warmup. Warren was able to recover up to 7th place before his pitstop, but made a catastrophic error exiting his pitbox, getting too much wheelspin and spinning his car, losing valuable time, and a good chance of recovering some points. Warren limped home to another 12th place, disappointed about the 1st lap incident, and his mistake in the pits, but happy in the fact he was able to show competitive pace again.
With Warren hoping to bounce back at the next race at Barcelona, he qualified 7th of the 21 car field. A slightly strange start light sequence caught out a few drivers on the grid, namely 6th placed Tom Parker. Warren however, made a decent start, and avoided the carnage behind him. With the opening lap in the book, Warren found himself in 6th, involved in a 4 car battle with teammate Ryan Walker, Pavel Loknovski and David Jundt. 6th became 5th after a clash between Walker and Jundt meant the latter was forced into retirement on Lap 8. Warren slightly lost touch with teammate Walker just before his pitstop, but was shaping up for a great battle with Parker who was in 6th, before the Kernow Sport driver was awarded a drive-through penalty for speeding in the pitlane. The rest of the race was fairly lonely for Warren, who cruised home to what became 4th place, after Loknovski retired from 2nd position, helping Warren secure his best finish in a GPVWC race to date.
Next up on the calendar was the ever popular Spa-Francorchamps circuit, with Warren hoping for similar success to the last race at Barcelona. Qualifying went well for Warren, taking 5th on the grid out of the 23 cars, and outqualifying teammate Ryan Walker for the first time, which Warren admitted was kind of a personal monkey off his back. Warren made a reasonable getaway at the start, but Walker who was 2 places back on the grid had a great start, and the 2 drivers went side by side into La Source, with Walker on the inside. Warren was forced to take the outside line and cost him a few positions, and at the end of the first lap he found himself down to 7th place. Some great battles throughout the race ensued for Warren, at various different points he had scraps with Pavel Loknovski, Adam Rouse and Ric Scott. Warren managed to fend off both Scott and Rouse near the end of the race and took home another solid finish, taking 5th position.
Zandvoort was the penultimate venue for the GPVWC Supercup, and Warren, while showing reasonable pace as per usual, wasn't quite as on it as normal, and had to settle for 9th place on the grid. The start was a disaster for Warren, losing a few positions before Turn 1, and was then accidentally tagged by another car as they headed towards turn 2, sending the Nordsjoen driver into the barrier, costing him both his front and rear wings. Consequently, it left the car too heavily damaged to continue, and Warren's race was over very quickly, registering his first non-finish of the season.
With Warren hoping to bounce back and finish the season on a high, the Nordsjoen team arrived at Singapore, and Warren prepared himself for his first ever night race. With the likes of De Vos, Redshaw and Loknovski deciding not to qualify and start from the back of the grid, Warren smelt a chance at a good grid slot, and subsequently recorded his best ever grid position, taking 2nd just behind Tom Parker. He made a reasonable start, attempting to challenge Parker for the lead before Turn 1, but played it safe, with pressure coming from behind from David Jundt and Jason Muscat. Warren dropped behind Jundt down to 3rd, and behind Ojay Clark to 4th, but held off Muscat for a while before eventually the Maltese driver found his way through. Warren then came under more pressure from the Malta Force drivers of De Vos and Redshaw. After some close battles through most of the race, Warren crossed the line to record an excellent 4th place. However, heartbreak struck for Warren, as he was disqualified from the race for excessive corner cutting. A real shame for Warren after a great race, but he accepted his penalty, and could still feel proud of his achievements this season, despite not entering the championship until Round 12 at Turkey.
Warren finished the season a very respectable 13th position, with 30 points to his name, despite missing the first 11 races of the season.
Supercup 2012
Warren has been announced as a driver for newly created team Innervision, managed by friend and Nordsjoen Racing colleague Pavel Loknovski. Innervision will take the role as Nordsjoen Racing's Supercup team. Warren will team up with former Superleague race winner Dave Carr-Smith, and the team have high hopes for the upcoming season.
Formula Challenge 2012
With the GPVWC launching a new third tier competition for the 2012 season called Formula Challenge, Warren has decided to take on the role of team manager and enter a team into the competition, called Velocity Racing. Myles Dixon and Josh Webster have been confirmed as the team's drivers for the inaugural season, with Wopke Hoekstra joining the team as their reserve driver.
Racing Career Results
Superleague
(key) (Races in bold indicate pole position, races in italics indicate fastest lap)
Year
Team
Chassis
Engine
1
2
3
4
5
6
7
8
9
10
11
12
13
14
15
16
17
18
19
20
WDC
Points
2010
ST Racing
?
Honda
AUS

-

CHN

-

JAP

-

UAE

-

HUN

-

MON

-

GBR

-

POR

-

BAH

-

TUR

-

CAN

-

MEX

Ret

BRA

-

ARG

-

ESP

-

ITA

-

BEL

-

NED

-

SIN

-

NC
0
2011
Nijo Racing
NR11B
Toyota
AUS

-

UAE

-

JAP

-

CHN

-

RSA

-

AUT

-

FRA

Ret

MON

Ret

GBR

-

BAH

-

SMR

13

TUR

Ret

MEX

Ret

CAN

-

BRA

-

ITA

Ret

ESP

-

BEL

-

NED

Ret

SIN

13

NC
0
† Driver did not finish the Grand Prix, but was classified as they completed over 75% of the race distance.
Supercup
(key) (Races in bold indicate pole position, races in italics indicate fastest lap)
Year
Team
Chassis
Engine
1
2
3
4
5
6
7
8
9
10
11
12
13
14
15
16
17
18
19
20
WDC
Points
2011
Nordsjoen Racing
?
Renault
AUS

-

UAE

-

JAP

-

CHN

-

RSA

-

AUT

-

FRA

-

MON

-

GBR

-

BAH

-

SMR

-

TUR

7

MEX

5

CAN

5

BRA

12

ITA

12

ESP

4

BEL

5

NED

Ret

SIN

DQ

13th
30
† Driver did not finish the Grand Prix, but was classified as they completed over 75% of the race distance.