Ojay Clark
From GPVWC Wiki
Ojay Clark (Born 28th July 1992) is a sim racing driver from London (UK) in the GPVWC, He is currently contracted with Synergetic Motorsports until the end of the 2012 season. Clark uses a Logitech Driving Force GT wheel and drives with an unusualy low steering angle of 153 degrees. Clark is also appearing in the World Sports Series for Measuric Racing and will drive for SimInk, the official sponsor of GPVWC for 2 rounds of the Endurance Series. He is also the owner of Supercup outfit No Fear Racing.
Early Years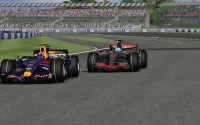 Clark started simracing on keys in December 2008 and was immediately asked to join "Pro Drivers League" Clark was on his way to winning his maiden GP before a refuelling error forced him to hand the victory over to Jason Muscat. Pro Drivers was rebranded as F1 Legends and Clark took podiums in Australia, Turkey and a wet Silverstone before the season was cut short and he finished unofficially 6th. The second season of F1 Legends was much more successful for Clark. He developed into a faster more consistent driver scoring podiums in every race including wins at Silverstone and Monza. At Silverstone he battled a superb Ruud Heesterbeek and a race later took his first pole by one second in Monaco. Once again the season was cut short and Clark was the unofficial champion. Clark joined ERL in January 2010 after a break from simracing. Clark's season got off to a good start but turned sour and he left after five races. The second season was better as he finished 8th in the championship on 59 points.
Superleague Career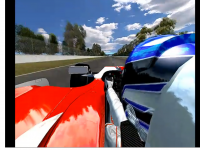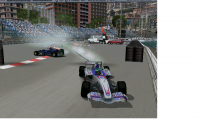 After participating in the last few events of the GPVWC Masters Series for Draig Racing and showing decent pace, Clark was accepted for a one year deal with Williamson Dynamics for the 2011 Superleague season. Clark managed to score points in eight of the first ten races including a 2nd place in Monaco where he was rewarded for a clean and consistent drive. Clark then made the change from driving with keys to driving with a wheel and has been known to say while his performance has increased massively as a result of this, a decline in the car's performance has led to low key results compared to what he was achieving earlier in the season. Clark was harshly disqualified from the San Marino Grand Prix for corner cutting. With five races to go Clark resigned from Williamson Dynamics and raced for Synergetic Motorsports at the Italian GP where he was running a solid 5th before a steering wheel malfunction gave him a stuck throttle resulting in a huge crash for the Englishman. The incident was set to mark the end of Clark's superleague season however two more on the spur appearances for Synergetic gave him 3 more points and allowed him to finish 7th in the championship on 55 points, one point behind Pavel Loknovski and one ahead of Mark Wicks and Nick Rowland. Clark was awarded the top prizes for Best Rookie of the Season and Overachieving Driver of the Season.
On December 15th it was revealed he would continue with Synergetic Motorsports driving for alongside Liam Hatchell for the 2012 season. Clark's season started badly with a spectacular crash in Australia. This was followed by his only points finish for Synergetic in China finishing a solid 7th. Running out of fuel in Abu Dhabi was followed by a steering wheel malfunction in Hungary, an incident in the final laps in Spain. After overtaking Mark Stanton round the outside of Monaco with 4 laps to go for 9th, Ojay was dropped to 11th after a post-race penalty. Montreal was another one to forget.
A few days later 2011 Champions Red Archer Virtual Racing announced that 2010 champion Janne Tanskanen had stepped aside and Clark was to fill their 2nd seat. This was on the condition that Clark remained an integral part of the Synergetic team and agreed to drive for them in the future.
Supercup Career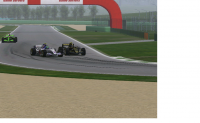 Clark's first Supercup race was at the 2011 Monaco Grand Prix driving for Williamson Dynamics where he crashed out of 3rd at Ste Devote. Later on in the season he would make two on the spur of the moment appearances which led to a DNF and a 7th place finish. However Clark then made the switch to Synergetic Motorsports and had prepared for his maiden race with them in Brazil and dominated qualifying setting his first GPVWC pole by 0.5 seconds before dominating the race to take his first win from championship leader Bart De Vos. The next race at Monza saw Clark take 3rd place followed by an early retirement in Zandvoort several races later before being disqualified with two other drivers after finishing 3rd at the Singapore GP. Clark finished the season joint 14th with 29 points.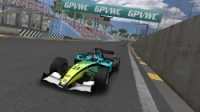 In 2012 Clark announced he had taken over managerial duties of the Masters outfit No Fear Racing and would be entering the team in the 2012 Supercup Championship with GPVWC rookies Scott Woodwiss and David Fidock. Woodwiss left the series for personal reasons before the Abu Dhabi GP leaving Clark to fill in. He did so by taking the team's first Supercup podium after an epic battle with Adam Rouse, Phillip Cullen and team-mate Fidock in the final laps.
Masters 2010
Clark's first appearance in GPVWC was at for the Masters Series at Cadwell Park in December 2010. Clark missed the feature race and with the reverse grid started in P1 for his first event. He led the first few laps before PC issues caused him to spin and get beached, as a result he finished 10th. For the next race Clark qualified 8th and was running 4th before an engine failure. He was taken out no less than four times by other drivers in the Sprint Race and finished 12th. He again qualified 8th at the next round and was taken out at turn 1. He came back from last place and still managed to finish 8th in the feature race and 10th in the Sprint Race. Clark's results were unspectacular but his pace was fairly good.
Masters 2011
Clark raced in green and white livery for the new No Fear Racing team alongside Jason Muscat, Abdel Damghi and Ruud Heesterbeek. Clark qualified on the front row for the first feature race and won the sprint race. A string of woeful races followed. Clark scored a podium in Istanbul only to be demoted to 5th after the race. He also collided with Pavel Loknovski while fighting for 3rd in Watkins Glen. Despite this he had a good end to the season scoring podiums in the two remaining feature races. Clark has showed very promising pace but disconnections, bad luck and silly mistakes blighted his season. He just missed out on 6th in the championship finishing 7th behind David Jundt on 105 points.
World Sports Series
Clark decided to appear in the World Sports Series for some relaxing racing away from the Superleague. He took a surprise pole position in Hungary only to have a bad start as well as a bad pit stop. This led to Clark making some audacious moves twice round the outside of Tom Parker and once round the outside of Ari Neiminen. He finished 5th.
Racing Career Results
Superleague
(key) (Races in bold indicate pole position, races in italics indicate fastest lap)
Year
Team
Chassis
Engine
1
2
3
4
5
6
7
8
9
10
11
12
13
14
15
16
17
18
19
20
WDC
Points
2011
Williamson Dynamics
WDF1.11/B
Mercedes
AUS

5

UAE

5

JAP

Ret

CHN

8

RSA

4

AUT

11

FRA

6

MON

2

GBR

8

BAH

10

SMR

DQ

TUR

8

MEX

8

CAN

-

BRA

9

7th
55
Synergetic Motorsports
SM-11
Ferrari
ITA

Ret

ESP

-

BEL

-

NED

Ret

SIN

8

2012
Synergetic Motorsports
SM-12
Toyota
AUS

Ret

CHN

7

UAE

Ret

HUN

11

ESP

Ret

MON

11

CAN

13

KOR

6

TUR

-

GBR

-

ITA

-

BEL

-

NED

-

IND

-

USA

-

BRA

-

JAP

-

SIN

-
† Driver did not finish the Grand Prix, but was classified as they completed over 75% of the race distance.
Supercup
(key) (Races in bold indicate pole position, races in italics indicate fastest lap)
Year
Team
Chassis
Engine
1
2
3
4
5
6
7
8
9
10
11
12
13
14
15
16
17
18
19
20
WDC
Points
2011
Williamson Dynamics
?
Renault
AUS

-

UAE

-

JAP

-

CHN

-

RSA

-

AUT

-

FRA

-

MON

Ret

GBR

-

BAH

-

SMR

-

TUR

-

MEX

13†

CAN

7

14th
29
Synergetic Motorsports
?
Renault
BRA

1

ITA

3

ESP

-

BEL

-

NED

Ret

SIN

DQ

2012
No Fear Racing
?
Toyota
AUS

-

CHN

-

UAE

2

HUN

-

ESP

-

MON

-

CAN

-

KOR

-

TUR

-

GBR

-

ITA

-

BEL

-

NED

-

IND

-

USA

-

BRA

-

JAP

-

SIN

-
† Driver did not finish the Grand Prix, but was classified as they completed over 75% of the race distance.
GPVWC Masters Results
Year
Team
Car
1
2
3
4
5
6
7
8
9
10
11
12
13
14
WDC
Points
2010
Draig Racing
BMW-E90
USA

FEA
-

USA

SPR
-

USA

FEA
-

USA

SPR
-

GBR

FEA
-

GBR

SPR
-

GER

FEA
-

GBR

FEA
DNS

GBR

SPR
10

AUT

FEA
Ret

AUT

SPR
12

GBR

FEA
8

GBR

SPR
10

20th
13
2011
No Fear Racing
BMW-E90
GER

FEA
Ret

GER

SPR
1

CHN

FEA
10

CHN

SPR
DNS

BEL

FEA
Ret

BEL

SPR
23

TUR

FEA
5

TUR

SPR
29

USA

FEA
Ret

USA

SPR
Ret

AUS

FEA
3

AUS

SPR
6

GBR

FEA
3

GBR

SPR
12

7th
105