Liam Hatchell
From GPVWC Wiki
Liam Hatchell (born 7th April 1992 in Ashton-under-Lyne, England) is a racing driver in the GPVWC who has competed in the Superleague, Supercup and Masters Series. He is currently racing for Synergetic Motorsports in the Superleague as first race driver. At present, he resides in the town of Denton, Manchester, England.
Liam made his debut in the Superleague in 2009 - just one year after his racing career began - in the Belgian Grand Prix at Spa-Francorchamps driving for Synergetic Motorsports. He finished an impressive 5th place, despite numerous restarts due to collisions between other drivers. Since then he has also competed in the Winter Series, driving the Renault Megane Cup, in which he won the championship against Joe Consiglio, winning five races out of ten rounds.
He is also the manager of the successful Hatchell-Pennine Motorsport racing team, with which he has taken five team championships and developed four drivers to collect more than twenty drivers' championships between them. It is a subsidiary of the Hatchell-Pennine Group, which runs a driver development and management programme for sim racers.
Liam is widely known as 'The Hatch-Man', for reasons unknown. However rumours suggest that this could relate to his success in the 2009/10 Megane Trophy, referring to him being a champion in hatchback-style cars. He is also known for his outspoken, honest nature, for which he has become involved in his fair share of arguments and disagreements during race weekends and on the GPVWC Forum. He is also praised for his very smooth driving style. This allows him to use his tyres conservatively, and still maintain speed and consistency even towards the end of their life. He has often said that he "can lap just as quick if not quicker on red tyres than I can on greens" (red being very worn, green being new as shown on the rFactor tyre wear indicator).
Early Career and Personal Life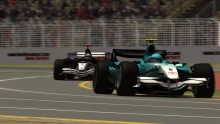 Liam began sim racing in September 2008, racing a number of different cars in a number of different series'. Since his career began, he has competed in more than 300 events, won more than 30 races and had almost as many pole positions and fastest laps. He has won 5 driver's championships, including in the
GPVWC
Winter Series 2009/10.
Liam has interested in motorsports from a very early age. He took a fond interest in touring cars, which he states is his most favoured racing discipline. Whilst he had previously played many racing games on console platforms, he had not raced online against other people until mid-2008 when he played ToCa Race Driver 3 online for a race.
It was only in September 2008 that Liam sampled true-simulated online racing in a professional environment. He raced more than 200 events within a year before joining GPVWC in August 2009, at which he acquired a contract with Synergetic Motorsports for the Superleague. Team manager Mal McKee was impressed with his progress and offered a full contract for the 2010 season. However, Mal was forced to hand over management duties to Liam for 2010 which he was more than happy with, having had much experience and success as a team manager previously. He developed a very strong Superleague car in the SM-10 and SM-10b during the course of the season, forcing an experimental progression of aerodynamic upgrades to the diffuser and front wing of the car which he stated gave "loads of stability when turning in either hard or smooth, which was handy for both my style being smooth and Sam's (Sam Millar) style being quite aggressive".
In addition to the Superleague, Liam also competed in the Supercup from the 2010 Abu Dhabi GP with Draig Racing, in which he won dominantly to challenge Christoph Lichtenstein for the title. He faded towards the end of the season however, due to personal issues, meaning Christoph could take the Driver's Championship.
Supercup 2010
Liam signed a contract with Draig Racing to race in the 2010 Supercup for the Abu Dhabi GP. He took pole position by 1.1 seconds, and won the race dominantly. This continued to be the fashion for a while, whittling Christoph Lichtenstein's championship lead down.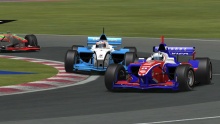 Later in the the series however, Liam began to make mistakes during races - the most notable being in Estoril, where he took too much kerb on the final corner, braking in reaction causing the wheels to lock. The car then slid onto the grass and into a nearby recovery truck that wasn't fully behind the ARMCO. The Supercup car lost a front wheel and the entire front wing. Despite his troubles, Liam managed to limp the car to the end of the race after being told by his pit crew that repairs were not possible, finishing 4th after leading the race up until the incident. Christoph started to regain his lead in the standings, as Jason Muscat competed to take over Liam's dominance for the remainder of the season.
Draig Racing Controversy & 2011 Superleague Career
At the end of 2010, Liam was offered a contract with Draig Racing following his more-than-impressive performances in the 2010 Supercup for the Brecon-based outfit. He and team manager Mike Phillis had been in discussions since early 2010, not long after Liam's debut in the Supercup. Liam was partnered with fellow Englishman Lee Morris, with Scotsman Ryan Walker acting as test driver. During pre-season testing, Liam struggled to get to grips with the car, which he felt wasn't built with his driving style in mind despite being associated with the team for almost a year before the season began. Although efforts were made by both Liam and the team to develop the car to further aid him in being comfortable with the way the car handled, Liam was still not on the pace of Lee.
Around two weeks prior to the Australian Grand Prix, it was reported that Phil Perkins contacted Liam to advise him that he wasn't "pulling his weight in pre-season testing" and that they were going to drop him into a testing role whilst they allowed Ryan Walker to race in the season-opener. Liam felt that this was unfair treatment, and wasn't prepared to stick with a team that weren't prepared to put faith into his performance.
Liam then returned to his former team, Synergetic Motorsports, where he was handed a testing/reserve role in the team due to the two race seats being occupied by two strong drivers in Sam Millar and Christoph Lichtenstein. However, Draig Racing followed this move with a claim that both Liam and Mal McKee were in breach of the GPVWC rules regarding driver contracts (stating that Liam was still under contract with Draig Racing at the time he signed back to Synergetic). It was later proved that they were not in breach of any rule, and Draig were deemed guilty of performing malicious attacks for financial gain at a time of difficulty for the team.
Draig Racing since fell into bankruptcy, forcing them into loaning money from the GPVWC Bank and having their car's development frozen.
2012 Superleague Career
In December 2011, Mal McKee revealed that Liam would return to a race seat with Synergetic Motorsports, alongside fellow Englishman Ojay Clark. It was believed that he only found out that he would race alongside Ojay via the press release, but took the news gladly.
"It's always nice to have a new partner, and as Ojay is such a strong driver I'm looking forward to him pushing me to get me back up to speed with the Superleague after a year out. I'm looking forward to another year with Synergetic in 2012", he was quoted after the announcement on the GPVWC Forum.
There were initial rumours about Liam's race seat following Liam, Mal, Christoph and Tom Parker in deep discussion during the GPVWC Day in October 2011. The four sat for an hour on the other side of the pub function room in a circle, prompting speculation of him returning after the entry of a team by Christoph into the Superleague, leaving a race seat open.
Hatchell-Pennine Motorsport FC 2012

In November 2011, Liam Hatchell entered team interest for Hatchell-Pennine Motorsport to compete in the newly announced Formula Challenge series for 2012. The team's entry was accepted, and they are expected to announce at least two race drivers in the near future. It is Liam's first team entry under the Hatchell-Pennine name since the
Masters Series
in 2010.
Racing Career Results
Superleague
(key) (Races in bold indicate pole position, races in italics indicate fastest lap)
Year
Team
Chassis
Engine
1
2
3
4
5
6
7
8
9
10
11
12
13
14
15
16
17
18
19
WDC
Points
2009
Synergetic Motorsports
?
Cosworth
AUS
CHN
JAP
FRA
IRL
MON
GBR
CZE
BAH
RSA
CAN
MEX
BRA
ITA
ESP
BEL

5

NED
SIN
25th
4th
2010
Synergetic Motorsports
?
Cosworth
AUS

Ret

CHN

7

JAP

8

UAE

3

HUN

Ret

MON

-

GBR

4

POR

Ret

BAH

4

TUR

Ret

CAN

Ret

MEX

Ret

BRA

Ret

ARG

-

ESP

Ret

ITA

-

BEL

-

NED

Ret

SIN
9th
33
2012
Synergetic Motorsports
?
Toyota
AUS

-

CHN

-

UAE

-

HUN

-

ESP

-

MON

-

CAN

-

KOR

-

TUR

-

GBR

-

ITA

-

BEL

-

NED

-

IND

-

USA

-

BRA

-

JAP

-

SIN

-
† Driver did not finish the Grand Prix, but was classified as they completed over 75% of the race distance.
Supercup
(key) (Races in bold indicate pole position, races in italics indicate fastest lap)
Year
Team
Chassis
Engine
1
2
3
4
5
6
7
8
9
10
11
12
13
14
15
16
17
18
19
20
WDC
Points
2010
Draig Racing GP
?
Toyota
AUS

-

CHN

-

JAP

-

UAE

1

HUN

1

MON

-

GBR

1

POR

4

BAH

1

TUR

-

CAN

1

MEX

4

BRA

4

ARG

Ret

ESP

-

ITA

-

BEL

1

NED

-

SIN

-

3rd
114
2011
Synergetic Motorsports
?
Renault
AUS

-

UAE

Ret

JAP

7

CHN

3

RSA

4

AUT

4

FRA

4

MON

Ret

GBR

Ret

BAH

14

SMR

Ret

TUR

-

MEX

-

CAN

-

BRA

-

ITA

-

ESP

-

BEL

-

NED

-

SIN

-

10th
38
† Driver did not finish the Grand Prix, but was classified as they completed over 75% of the race distance.