2011 Austrian Grand Prix
From GPVWC Wiki

The 2011 Austrian Grand Prix for the Superleague - the sixth race of the season - took place on the A1-Ring track in Spielberg, Austria on the 12th of May.
Report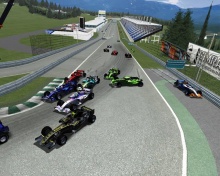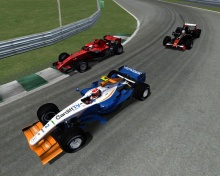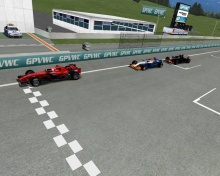 A memorable race at the A1-Ring in Austria saw the top three finishers separated by a mere 0.2s as Jason Muscat interrupted the streak of successive victories of Lee Morris, who finished third. Joe Consiglio was sandwiched between the two in one of the closest finishes in the history of GPVWC.
Sam Millar and Synergetic had notched up the second consecutive best performance in qualifying, the Scotsman lining up on the grid next to Muscat, with Championship leader Morris in third and Consiglio in fourth. 2011 debutant Luis Fernando Laaff for Constant Racing was an excellent 5th, with Dave Carr-Smith in 6th splitting the two Constant cars. The other debutant in the race, Teemu Toikka, lined up in 21st.
Both Sam Millar and Lee Morris had really poor starts, falling prey of the more agile Renault-powered Constant Racings and Red Archer. By the famed Remuskurve, Joe Consiglio was leading Muscat with Sam Millar third ahead of Lee Morris, who had muscled past the two Constants and was now chasing the leading trio. Millar's race, however, was to take a turn for the worse as he collided with Muscat and spun off the track, rejoining a lowly 11th place and seeing his strategy, which included a really light first stint, fatally compromised.
The leaders - now reduced to a trio of Consiglio, Morris and Muscat - set up a race-long battle, finding themselves within a second of each other after the last round of stops. An amazing 15-lap battle ensued, with the lead being swapped and traded several times. Muscat, on 26-laps old tyres, got the lead some 5 laps from the end and, despite intense pressure from his rivals, who kept fighting until the very end, never relinquished his position. The cars all crossed the finish line within 0.2s of each other, making it possibly the closest finish in GPVWC history and surely a memorable race for all.
Lee Morris saw his lead in the Championship still in a solid position, although the verdict from this race was that Nordsjoen, Red Archer and Synergetic all could still play a massive part in this championship.
Classification
Qualifying
Race
Standings after the race
| | |
| --- | --- |
| Drivers' Championship standings | Constructors' Championship standings |
External Links