2011 British Grand Prix
From GPVWC Wiki
The 2011 British Grand Prix for the Superleague - the ninth race of the season - took place on the Silverstone track in Northamptonshire on the 16th of June.
Report
The British Grand Prix. There is nothing more really to be said. The wonderful fast, flowing, challenging and now new Silverstone circuit is something even more of a spectacle. The new arena section and then new pits and paddock complex being created and with all this euphoria came a GPVWC Britsh Grand Prix race that it did not let down.
Joe Consiglio of Nordsjoen was quickest in Free Practice but only marginally over team mate Pavel Loknovski just a tenth splitting the pair. Qualifying began and the usual suspects were at the front. Lee Morris a staggering sixth tenths quicker than Consiglio, a superlative qualifying lap showing Morris's raw natural talent and ability.
Five red lights went out and the race began. Immediately it had become evident that a split strategy was on the cards. Both Morris and Consiglio using contrasting strategies, Morris on a three stop and Consiglio on a two stop. Jason Muscat also opting for the two over the three, while Nick Rowland followed Morris on a three stop. As Morris got the hammer down up front Consiglio maintained 2nd but on lap 2 was passed by Muscat into Brooklands. However, on lap 3 the Red Archer driver made a mistake at the new Abbey chicane and this was all Consiglio needed to reclaim 2nd place. The Nordsjoen driver was then able to slowly pull away from his Maltese compatriot and keep Morris just within his sights.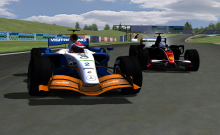 As the strategies played out, Morris emerged from his final pitstop 5 seconds down on Consiglio with only 8 laps to go. On fresh rubber the Englishman sliced into Consiglio's lead at around half a second per lap. As the excitement grew, memories of
Suzuka
loomed large, would Consiglio be able to hold on this time round? At the beginning of the last lap the two aces were now nose to tail. However, onlookers were denied a grandstand finish after an unfortunate collision at Vale. From a fair way back Morris tried to outbrake the 2009 champion but in doing made the slightest of contacts with the Nordsjoen's left rear tyre. This was enough to send Consiglio into a spin. In a great show of sportsmanship Morris acknowledged responsibility for the incident by immediately handing the position back to the Maltese driver. So after a very intense race it was Consiglio who picked up his 2nd victory of the season. Morris came home in second and the surging
Jason Muscat
was third.
Morris was left to lament what could have been and also left scratching his head at the time lost during his pit stops on a three stop strategy. Let the second half of the season battle commence!
Classification
Qualifying
Race notes
1 Nick Rowland was given a five place grid drop from a penalty from a previous race incident.
2 Luis Fernando Laaff was given a five place grid drop from a penalty from a previous race incident.
3 Kieran Ryan, having been given a back-of-grid penalty from a race incident in the previous race, decided to opt out of the qualifying session.
Race
Standings after the Race
| | |
| --- | --- |
| Drivers' Championship standings | Constructors' Championship standings |
External Links