2011 Canadian Grand Prix
From GPVWC Wiki

The 2011 Canadian Grand Prix for the Superleague - the fourteenth race of the season - took place at the Circuit Gilles Villeneuve circuit in Montreal, Canada on the 25th of August.
Report
Coming off the back of their first 1-2 in the team's Superleague history, Red Archer VRT would no doubt be hoping for a repeat of the same, but main championship contenders Joe Consiglio and Lee Morris would hope to have something to say about that. With the lack of development in the last few races on the Draig Racing car due to financial implications, both Morris and teammate Ryan Walker were frustrated with the apparent lack of straight line speed, obviously an important factor at a track such as Montreal.
Many in the paddock were beginning to wonder if Morris no longer had a car he would be able to still compete for the championship with compared to Consiglio's Nordsjoen car, which is continually being updated. Canada saw the return to the cockpit for the Italian stallion William Ponissi in the Constant Racing car, and was excited about being back on the grid again. Canada would also see the return to the GPVWC Superleague for Tommi Koivunen, making his debut for Nijo Racing, alongside team boss Chris Williamson.
Qualifying
Qualifying went pretty much as expected, with Joe Consiglio dominating the session, taking pole position over half a second quicker than 2nd place Jason Muscat, winner of the previous round in Mexico. Lee Morris maximised what he could out of the car and took 3rd on the grid, though ending the session 8 tenths of a second slower than Consiglio did nothing to brighten the Englishman's mood. Dave Carr-Smith took 4th on the grid for Midnight Motorsport, and David Jundt rounded out the top 5. It was a good session for Mark Wicks, taking 7th on the grid for Woods Racing, his best qualifying session of the season, and possibly a sign that the Woods Racing team are finally beginning to make a step forward, although Wicks' teammate Kieran Ryan struggled to 16th on the grid. It was also a positive session for the Computrac team, with Ben Morgan taking 10th on the grid, with teammate and team boss Gavin Thomas in 13th. Koivunen's first qualifying session for Nijo Racing was a struggle, qualifying 23rd of the 24 runners.
Race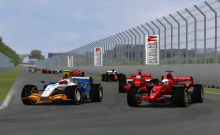 At the start of the race, it was Muscat who made the best getaway from the front row, taking the lead from Consiglio on the inside of Turn 2, though the Red Archer driver's lead was short lived, as Consiglio was able to get into Muscat's slipstream, and made his way past at the final chicane just before the start of Lap 2. Despite dropping to 4th at the start, Lee Morris found himself up to 2nd place at the beginning of Lap 2 after a small error from Muscat at the final chicane allowed the Draig Racing driver through. Muscat held onto 3rd, ahead of Carr-Smith in 4th and his teammate
Nick Rowland
in 5th. A very impressive start from Ben Morgan saw him up to 6th place, ahead of Jundt who'd slipped to 7th,
Sam Millar
8th, Wicks 9th and
Pavel Loknovski
rounding out the top 10 after the opening lap. Just one lap later though, and Muscat used his straight line speed advantage to find his way back past Morris for 2nd place, leaving the Draig Racing driver to deal with the two Midnight Motorsport cars. Just 2 corners later, and Carr-Smith made his way into 3rd, sending the struggling Morris down to 4th. However, a crazy sequence of events were to happen a few corners later, with Morris being edged out off the track accidentally by Carr-Smith at Turn 3, sending Morris down to 10th, which soon became 9th after a huge accident for Jason Muscat, suffering technical problems and losing control of his car, smashing into the wall at Turn 5, losing both his wings, and requiring significant repairs, which eventually saw him rejoining dead last, a lap down even on the next highest placed car which was Koivunen. Pavel Loknovski also had an incident, losing his front wing and requiring repairs. All these incidents allowed Consiglio to scamper away into the distance completely untroubled, but promoting the Midnight cars into 2nd and 3rd, Carr-Smith not far ahead of Rowland. Morgan's impressive start to the race now saw the Computrac car in uncharted territory for them, running up in 4th position, with a few seconds gap between himself and Millar now up to 5th, fending off Jundt in 6th.
Mark Stanton
was now up to 7th, with Ryan Walker in 8th, ahead of teammate Morris in 9th, and
Chris Allen
rounding out the top 10.
The next few laps saw Morris work his way past Walker, Millar and Mark Stanton, before taking part in an enthralling battle for 5th place with Ben Morgan who had been passed by Jundt for 4th. The battle between Morris and Morgan lasted for quite a few laps, with the Computrac driver holding his own against the frustrated Morris. Lap 13, and an attempted pass on the outside of Morgan by Morris resulted in light contact between the two, Morris unhappy that he wasn't given enough room by the Computrac driver, and Morris fell a few seconds behind. The race was already pretty disastrous for Draig Racing, but got even worse with the retirement of Ryan Walker on Lap 15, after an incident between himself and Ponissi. Meanwhile, David Jundt was showing some great pace during this period of the race, making a pass for 3rd place stick at the hairpin on Nick Rowland, but the Midnight Motorsport driver not giving up, and fighting his way back past. A lap later, and 3 retirements occurred, with both the Stanton brothers being forced into retirement, as well as Chris Allen in only his second race for Williamson Dynamics. Lap 18 saw the first of the front runners make a pitstop, with Carr-Smith pitting from 2nd place, with Morgan and Morris not too far behind also pitting. Jundt finally made it past Rowland and made it stick on Lap 22, just one lap before leader Consiglio, and Rowland pitted. Such was Consiglio's advantage over the battling pair of Jundt and Rowland, even after his pitstop he was able to maintain his lead.
Lap 28, and heartbreak for Ben Morgan after losing his front wing from 6th position, rejoining just behind Bart De Vos. Further up the field, a 3 way battle was developing between Jundt, Rowland, and Lee Morris who had caught up to the squabbling pair. Lap 33, and Morris made his way past Rowland, as a few seconds gap had now formed between 3rd placed Jundt and the battle between Morris and Rowland. As we approached half distance in the race, the field began to hold relative station, with Consiglio's lead over Carr-Smith now 21 seconds, who's gap over Jundt is slowly but surely being decreased, down to 3 seconds. Another 3 seconds separates Jundt and Morris in 4th, with Rowland in 5th. Lap 41, and Jundt had closed down the gap to 2nd placed Carr-Smith and proceeded to harry the Englishman for all his worth. Sure enough, Jundt found his way past, and immediately started to make a gap between himself and Carr-Smith, who at the end of the same lap made his 2nd and final pitstop, and rejoined just ahead of Lee Morris. A few laps later, Rowland made his stop, rejoining behind his teammate, and Morris. David Jundt's final pitstop saw him pit from 2nd, and rejoin in the same position, leaving Carr-Smith, Morris and Rowland to battle for the final podium spot.
Lap 45 saw the retirement of Sam Millar for Synergetic Motorsports, who was having a tough afternoon after a promising start. With some clever team tactics, Carr-Smith decided to give up the chase to the faster Jundt in 2nd, and focus on slowing down Morris behind him, to allow his teammate Rowland to close up to the Draig car. Lap 51 and 52, two big momentum shifters took place, both involving retirements from the race. Firstly, Nick Rowland from 5th place on Lap 51 with technical issues, followed by Lee Morris from 4th on Lap 52, with similar issues. While Morris was having a difficult race by his standards anyway, it even more firmly put the ball in Joe Consiglio's court in regards to the driver's championship, and a win for the Maltese driver would see Morris' lead get cut down by a whole 15 points. These two big retirements helped move the recovering Pavel Loknovski up into 4th place, Mark Wicks into 5th, and an impressive comeback drive from Jason Muscat now saw him up into 6th position.
After the shock retirements, the rest of the field held position for the rest of the race, apart from some late retirements in the form of Bart De Vos, and Ben Morgan, trimming the field down to just 12 finishers in the end. Cruising for the majority of his final stint, Joe Consiglio took a dominant and trouble free win in Canada, with a 22 second gap over 2nd placed David Jundt, who solidifies his 3rd posiiton in the championship even more. Dave Carr-Smith took a well deserved 3rd place, 32 seconds off the leader. Despite losing his front wing early on in the race, the other Nordsjoen Racing driver Pavel Loknovski took 4th place, the young Estonian more than proving he deserves a race seat at Nordsjoen since coming into the team. Mark Wicks took his equal best finish of the season with 5th, despite an early spin. Jason Muscat was undoubtedly a contender for driver of the day after coming back from a lap down on the whole field after his early crash to finish 6th place. Kieran Ryan took 7th, two points finishes for their drivers giving the Woods Racing faithful something to smile about after a troubled season.
Phil Perkins
avoided the carnage to take 8th place for
Triple-Double Racing
,
Christoph Lichtenstein
did much the same taking 9th, and Gavin Thomas took his first point of the season finishing in 10th place, despite making a total of 6 pitstops during the race! Chris Williamson was disappointed not to be able to get at least a point for himself and Nijo Racing, having to settle for 11th place, and William Ponissi was the final finisher in 12th place for Constant Racing.
Classification
Qualifying
Race
Standings after the Race
| | |
| --- | --- |
| Drivers' Championship standings | Constructors' Championship standings |
External Links