2013 Superleague season
From GPVWC Wiki
2013 Superleague season
Competition
Superleague
Title Sponsor
IPForge
Platform Used
rFactor v1.255
Rounds
18
Mod base
Custom
Carshape base
Formula Reiza
Engine Supplier(s)
Krevder, Martex, Potentia, Trinity 2400cc NA V8
Tyre Supplier(s)
GPVWC brand

G

Drivers
62
Teams
13
Drivers' Champion
Lukas Euler
Teams' Champion
Midnight Motorsport
Superleague Seasons
2000 · 2001 · 2002 · 2003 · 2004 · 2005 · 2006 · 2007 · 2008 · 2009 · 2010 · 2011 · 2012 · 2013 · 2014 · 2015 · 2016 · 2017 · 2018 · 2019 · 2020 · 2021
The 2013 Superleague season was the 14th GPVWC Superleague season.
Report
Lukas Euler retained his Superleague World Drivers Title in a closely fought season long battle with eventual runner-up Ruud Heesterbeek, in a season that saw sixty two individual drivers take part in at least one race across eighteen rounds. There were four different race winners including first ever Superleague victories for Jim Parisis and Ruud Heesterbeek as well as their respective teams.
Midnight Motorsport also retained their World Constructors Title, edging out closest rivals Nijo Racing by fifty seven points.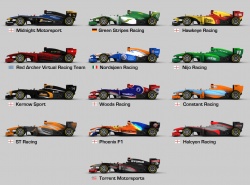 Teams and drivers
The following teams have confirmed their 2013 participation.
Superleague Team
Base
Constructor
Chassis
Engine
Tyre

No.

Race Drivers
Rounds

No.

Test/Reserve Driver(s)
SimCraft Midnight Motorsport
Manchester, England
Midnight
MM-03
Potentia PGE-01 V8

G

1
Lukas Euler
1-18
30
David Fidock
2
Alex Cooper
1-11, 13-18
Green Stripes Racing
Muehlen, Germany
Green Stripes
GSR-13
Potentia PGE-01 V8

G

3
David Gaspers
1-4
31
Matt Clipp
Matt Clipp
5
Vinodh Moodley
6
4
Christoph Lichtenstein
1-2, 4-6
Matt Clipp
3
Hawkeye Racing
Kendal, England
Hawkeye
RS-E1
Potentia PGE-01 V8

G

5
Lewis Redshaw
1-4, 6-18
32
Oscar Hardwick
Sven de Vries
5
6
Bart De Vos
1-6
Red Archer Virtual Racing Team
Rethymno, Greece
Red Archer
RA213
Krevder SA13 V8

G

7
David Jundt
1-6
33
Menno Klont
8
Jason Muscat
1-4, 6-17
Vinodh Moodley
5
Nordsjøen Racing
Cardiff, Wales
Nordsjoen
NR006
Martex MX-01 V8

G

9
Dave Carr-Smith
1-6
34
Pavel Loknovski
10
Lee Morris
1-3
Jordan Weekes
4-6
Nijo Racing
Nantwich, England
Nijo
NR-13
Trinity TRIN001 V8

G

11
Ruud Heesterbeek
1-6
35
Chris Williamson
12
Tom van der Voort
1-6
Kernow Sport
St.Austell, England
Kernow
MW2
Krevder SA13 V8

G

14
Steve Verloy
1-6
36
Scott Bennett
15
Mark Johnston
1-3, 5
Scott Bennett
4, 6
Woods Racing
Southampton, England
Woods
WR13a
Trinity TRIN001 V8

G

16
Tom Parker
1-2
37
Ben Warren
Mark Wicks
3-6
17
Ben Warren
1, 4-5
Teemu Toikka
2-3, 6-9, 10-12
Constant Racing
St.Helens, England
Constant
CR-SL13
Potentia PGE-01 V8

G

18
Mark Stanton
1-6
38
19
David Stanton
1-5
Dale Stones
6
ST Racing
Chandler's Ford, England
ST Racing
STR02-13
Trinity TRIN001 V8

G

20
Harley Hamnett
12
39
Morten Wernersen
Morten Wernersen
2
Myles Dixon
1, 3-11
21
Mark Fuller
1-4, 6-12
Morten Wernersen
5
Phoenix F1
Gold Coast, Australia
Phoenix
PF1-05
Krevder SA13 V8

G

22
Kieran Ryan
1-18
40
Alberto Alvarez
23
Boyd Bryson
1-6
Halcyon Racing
Brackley, England
Halcyon
HR1
Martex MX-01 V8

G

24
Philip Cullen
1-3
41
Georgios Davakos
Jamez Shepherd
4
Georgios Davakos
5
Andreas Wauters
12
25
Adam Rouse
1-6
Torrent Motorsports
Columbus, OH
Torrent
TMo-01b
Martex MX-01 V8

G

26
Petter Kaasa
1-18
42
Simon Melhuish
27
Jim Parisis
1-18
Team changes
Draig Racing were excluded from the previous season due to a continued breach of contract regulations and were not accepted into the Superleague for the 2013 season.
Red 5 did not re-apply for entry into the 2013 Superleague season.
Synergetic were not accepted after applying for an entry in the 2013 Superleague season due to continued absences of the team at the tail end of the 2012 season.
New entries
The number of team entries remained at 13 for the 2013 Superleague season with 3 spots available for new teams, two new entries were promoted from the Supercup.
Phoenix F1 returned to the GPVWC after a 7 year break and were accepted on the back of a strong application with established drivers and a close GPVWC working relationship with team manager Andy Graydon.
Halcyon Racing were promoted to the Superleague after a strong campaign in the previous seasons Supercup. Unfortunately the team folded towards the end of the season after a prolonged fight to field a consistent driver lineup, the team were not replaced mid-season and the slot remained open for 2014.
Torrent Motorsports were also promoted from the Supercup after a highly successful 2012 campaign in which they were crowned Constructors champions.
Driver changes
2013 Calendar
Round
Race Title
Grand Prix
Circuit
Conditions
Mod
Date
Start Time
Track time
GMT
1
Australian Grand Prix
Australian GP
Albert Park Grand Prix Circuit, Melbourne
Partly Cloudy
rFactor v1255
28th February
16:00
19:00
2
Malaysian Grand Prix
Malaysian GP
Sepang International Circuit, Selangor
Monsoon
rFactor v1255
14th March
16:00
19:00
3
Austrian Grand Prix
Austrian GP
Red Bull Ring, Spielberg
Sunny
rFactor v1255
28th March
14:00
19:00
4
Hungarian Grand Prix
Hungarian GP
Hungaroring, Budapest
Heavy Cloud
rFactor v1255
11th April
14:00
19:00
5
Spanish Grand Prix
Spanish GP
Circuit de Catalunya, Barcelona
Sunny
rFactor v1255
25th April
14:00
19:00
6
Monaco Grand Prix
Monaco GP
Circuit de Monaco, Monte Carlo
Light Showers
rFactor v1255
9th May
14:00
19:00
7
Canadian Grand Prix
Canadian GP
Circuit Gilles Villeneuve, Montreal
Sunny
rFactor v1255
23rd May
14:00
19:00
8
Korean Grand Prix
Korean GP
Korean International Circuit, Yeongam
Sunny
rFactor v1255
6th June
15:00
19:00
9
Turkish Grand Prix
Turkish GP
Istanbul Park, Istanbul
Sunny
rFactor v1255
20th June
15:00
19:00
10
British Grand Prix
British GP
Silverstone Circuit, Northamptonshire
Light Cloud
rFactor v1255
4th July
13:00
19:00
11
Italian Grand Prix
Italian GP
Autodromo Nazionale di Monza, Monza
Showers
rFactor v1255
18th July
14:00
19:00
12
Belgian Grand Prix
Belgian GP
Circuit de Spa-Francorchamps, Spa
Partly Cloudy
rFactor v1255
1st August
14:00
19:00
13
French Grand Prix
French GP
Circuit de Nevers Magny-Cours
Partly Cloudy
rFactor v1255
15th August
14:00
19:00
14
German Grand Prix
German GP
Nürburgring, Nürburg
Sunny
rFactor v1255
29th August
14:00
19:00
15
United States Grand Prix
United States GP
Indianapolis Motor Speedway
Partly Cloudy
rFactor v1255
12th September
13:00
19:00
16
Abu Dhabi Grand Prix
Abu Dhabi GP
Yas Marina Circuit, Yas Island
Sunny
rFactor v1255
26th September
17:00
19:00
17
Japanese Grand Prix
Japanese GP
Suzuka Circuit, Suzuka, Mie
Sunny
rFactor v1255
10th October
15:00
19:00
18
Brazilian Grand Prix
Brazilian GP
Autódromo José Carlos Pace, São Paulo
rFactor v1255
24th October
14:00
19:00
Testing
The 2013 testing schedule is as follows:
Calendar changes
The 2013 calendar remained at 18 rounds, but still had changes in venues with the Malaysian Grand Prix (last staged in 2008), the Austrian Grand Prix (last staged in 2011) and the French Grand Prix (last staged in 2011) all returning.
The Chinese, Dutch and Singapore rounds were all dropped in their place.
Rule changes
Technical
2013 saw the return of Engine Development, adding another degree of complexity to the job of team manager and bringing potentially crucial differences between the teams. Selected teams within the Superleague became engine constructors, building the powerplants for all other teams. The four "works" deals will be available went to Potentia (Midnight), Martex (Nordsjoen), Krevder (Kernow) and Trinity (Woods) who in turn sold their products to the remaining nine teams.
A new contract system featured three different classes of driver contracts; Primary Drivers, Reserve Drivers and Emergency Drivers. Primary Drivers were not allowed to participate in any way in series "below" their current one in the career ladder, their commitment being to the series where they have a Primary contract. Reserve Drivers were allowed to take part only in four races per season before having to switch to a Primary Driver contract. Emergency Drivers were entitled to the same deal of Reserve Drivers, but their contracts could not exceed a duration of one month.
A real game changer for the GPVWC, was the introduction of a Dynamic weather conditions introduced via the by RFE Weather Plugin. This did not simply add wet tracks to the game; rather it simulated atmospheric conditions changing throughout the race and being reflected by the levels of grip and temperature of the track.
Sporting
Drivers were required to use both available tyre compounds throughout a race, unless the wet weather tyre was used by drivers during the race.
The points structure changed to reflect one utilized in real life by MotoGP and rewarded the top 15 placed drivers.
Results and standings
Grands Prix
Scoring system
Points are awarded to the top 15 classified finishers.
| | | | | | | | | | | | | | | | |
| --- | --- | --- | --- | --- | --- | --- | --- | --- | --- | --- | --- | --- | --- | --- | --- |
| Position |  1st  |  2nd  |  3rd  |  4th  |  5th  |  6th  |  7th  |  8th  |  9th  |  10th  |  11th  |  12th  |  13th  |  14th  |  15th  |
| Points | 25 | 20 | 16 | 13 | 11 | 10 | 9 | 8 | 7 | 6 | 5 | 4 | 3 | 2 | 1 |
Drivers standings
Key
Colour
Result
Gold
Winner
Silver
2nd place
Bronze
3rd place
Green
Points finish
Blue
Non-points finish
Non-classified finish (NC)
Purple
Did not finish (Ret)
Red
Did not qualify (DNQ)
Did not pre-qualify (DNPQ)
Black
Disqualified (DSQ)
White
Did not start (DNS)
Race cancelled (C)
Light blue
Practiced only (PO)
Blank
Did not participate (-)
Excluded (EX)
Withdrew entry before the event (WD)

Bold - Pole
Italics - Fastest lap
† Drivers did not finish the Grand Prix, but were classified as they completed over 75% of the race distance.
‡

Constructors standings
Pos
Constructor
Car
No.
AUS

MYS

AUT

HUN

ESP

MON

CAN

KOR

TUR

GBR

ITA

BEL

FRA

GER

USA

UAE

JPN

BRA

Points
1
Midnight-Potentia
1
2
Ret
1
1
1
3
2
2
2
2
1
1
3
3
8
4
1
3
539
2
4
6
2
Ret
12
5
7
3
3
3
5
4
5
7
6
5
5
4
2
Nijo-Trinity
11
3
2
4
3
2
2
3
1
1
1
2
2
2
6
3
1
2
1
482
12
15†
8
5
5
6
4
5
5
5
4
6
Ret
Ret
Ret
7
11
10
Ret
3
Torrent-Martex
26
5
5
8
4
3
9
8
4
6
5
3
5
4
2
2
18†
9
14†
439
27
6
3
7
6
5
6
6
7
4
11
Ret
8
1
1
1
2
3
2
4
Nordsjoen-Martex
9
1
1
3
2
4
1
1
12
10
Ret
Ret
15†
6
13
Ret
16
7
8
256
10
Ret
4
Ret
13
7
14
Ret
Ret
9
Ret
10
Ret
Ret
12
15
14
6
7
5
Hawkeye-Potentia
5
10
7
9
10
17
7
4
6
8
6
8
6
Ret
5
5
3
4
5
237
6
7
11
10
Ret
10
8
9
8
Ret
12
Ret
Ret
Ret
8
Ret
17
8
6
6
Red Archer-Krevder
7
9
9
11
12
8
12
Ret
11
17
14
9
Ret
8
Ret
11
Ret
11
9
176
8
8
10
6
7
13
11
10
9
11
7
14
12
7
9
10
10
Ret
Ret
7
Kernow-Krevder
14
12
16
15
8
11
Ret
15
Ret
12
10
Ret
Ret
12†
14
14
Ret
12
Ret
125
15
Ret
17
Ret
14
Ret
18†
16
16
7
Ret
4
3
Ret
4
4
6
14
10
8
Woods-Trinity
16
20†
Ret
16
11
9
13
19†
10
Ret
8
7
Ret
Ret
11
12
7
Ret
Ret
82
17
Ret
14
19
Ret
14
Ret
12
Ret
16
9
11
13
Ret
Ret
13
?
Ret
Ret
9
Phoenix F1-Krevder
22
17
21
17
15
19
16†
14
14
13
Ret
15
Ret
9
16
Ret
12
13
13
48
23
18
20
Ret
Ret
20†
15
11
15
Ret
Ret
Ret
11
10
Ret
16
13
15
Ret
10
Green Stripes-Potentia
3
21†
12
12
Ret
15
Ret
17
17
Ret
16
Ret
Ret
14
Ret
Ret
15
Ret
15
43
4
13
15
18
Ret
Ret
Ret
18
13
14
15
12
9
Ret
15
Ret
8
Ret
Ret
11
Constant-Potentia
18
14
Ret
13
Ret
16
Ret
Ret
Ret
Ret
13
13
7
Ret
Ret
-
9
Ret
11
32
19
16
Ret
Ret
16
18
17†
Ret
19
Ret
17†
Ret
-
-
-
-
-
-
Ret
12
ST Racing-Trinity
20
19
19
Ret
Ret
Ret
Ret
Ret
18
Ret
Ret
Ret
10
Ret
10
9
Ret
Ret
12
29
21
22†
18
Ret
Ret
22†
Ret
20
Ret
15
-
Ret
Ret
11
17
17
Ret
Ret
13
Halcyon-Martex
24
Ret
Ret
20†
9
Ret
-
Ret
Ret
-
Ret
Ret
Ret
-
-
-
-
-
-
26
25
11
13
14
Ret
21†
10
13
Ret
-
-
-
-
-
-
-
-
-
-
Pos
Constructor
Car
No.
AUS

MYS

AUT

HUN

ESP

MON

CAN

KOR

TUR

GBR

ITA

BEL

FRA

GER

USA

UAE

JPN

BRA

Points

Key
Colour
Result
Gold
Winner
Silver
2nd place
Bronze
3rd place
Green
Points finish
Blue
Non-points finish
Non-classified finish (NC)
Purple
Did not finish (Ret)
Red
Did not qualify (DNQ)
Did not pre-qualify (DNPQ)
Black
Disqualified (DSQ)
White
Did not start (DNS)
Race cancelled (C)
Light blue
Practiced only (PO)
Blank
Did not participate (-)
Excluded (EX)
Withdrew entry before the event (WD)

Bold – Pole
Italics – Fastest Lap
† Cars did not finish the Grand Prix, but were classified as they completed over 75% of the race distance.
‡