Ric Scott
From GPVWC Wiki
Ric Scott is an English driver in the GPVWC and drives for CSG Racing in the GPVWC Supercup series.
Scott is best known as Hawkeye Racing's team owner and driver from the HOWC, but since the league closed down, he had been inactive in the Sim-Racing world.
In June 2011, he started practicing racing again in order to compete in the GPVWC and has since signed a contract with Draig Racing for the rest of the season. As well as his commitments for Draig in the Supercup, Scott is also a test driver in the Superleague for Triple-Double Racing and has recently entered his own team, Hawkeye Racing, into the Supercup competition.
Early Sim-Racing Career
Scott started racing as a youngster in the mid-90s on the game GP2. In 2000, he formed his own racing league, the Hawkeye Offline World Championship, using GP3 to race. He competed in the first few seasons for his own team, claiming several podiums along the way, but took part in less races later on due to his league administration duties.
HOWC
2005-2007
Online sim-racing started for Scott with the release of rFactor in 2005. The HOWC started using the game for their F1 championship and Scott entered his Hawkeye Racing team into it. He finished 6th out of 19 competitors, with his team clinching the constructors title.
In 2006 his team were successful again, retaining the constructors title, beating their big rivals Vod:Bul Racing. Scott improved on his performance last season, coming 4th. His best result of the season came at Imola, where he won the race, the 3rd victory of his career.
He won a further 2 races in the 2007 season, but failed to improve on last season, coming 4th again. This time his team missed out on the constructors title too, with Vod:Bul Racing comfortably ahead.
Megane Championship
His biggest success to date was winning the HOWC Megane World Championship in 2007, racing for Justin Ziarko's Rage Racing. Consistency was the key for Scott this season, with his main rival, Stefan Gordon taking twice as many victories as him. The season came down to the last round, an endurance race, at Bathurst. An error from Gordon early on gave Scott the title, winning with 274pts to Gordon's 254.
GPVWC
Supercup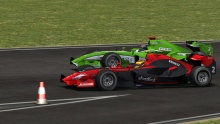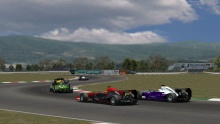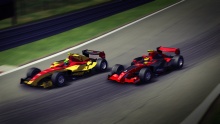 Ric Scott made his debut half-way through the 2011 Supercup season, driving for Draig Racing along-side fellow former HOWC racer, Phil Perkins at the 2011 Supercup Turkish Grand Prix. Scott struggled to start with, having not raced competitively for 3 years, and was way down the order in qualifying until his last lap which placed him in 11th of 24. He had a dream start in the race, taking advantage of other drivers' errors to get up to 8th place. An error on lap two lost him a few of places and he was back down in 11th. After that, Scott's lap-times were more consistent and he eventually worked his way up to 9th place with Tom Parker and Chris Williamson catching him. He managed to fend off Williamson but Parker (who qualified 4th) managed to get through, only to retire later, giving Scott a solid 8th place in his first race.
The next race on the calendar was Mexico, and Scott carried on his form by qualifying 10th. The race started well for him, as he maintained 10th position going into turn 1. He'd had a better start than Tom Parker ahead of him but didn't have the straight-line speed to get past, so Scott, Parker and Chris Williamson were 3-abreast on the start/finish straight but Scott eased off in order to get round T1 safely. His over-take of the day came 2 corners later when he managed to take Ben Warren on the outside of Turn 6 after getting a good drive out of Turn 5, moving him up to 8th. Contact with Nikos Evangelidakis and Gavin Thomas early on in the race sent Scott down into 12th, but through some over-taking moves and several retirements, he worked his way back up into the points, finishing 6th overall.
Scott took another 6th place in Canada followed by a 7th place in Brazil. In Monza he was on course for a 6th place until Erik Tveit spun his car in front of him, with Scott losing his front wing and having to make a pitstop. He worked his way back up to 8th place, his effort not going un-noticed with commentator Lee Morris giving him the driver of the day. Spain would have a similar story. A poor start from Tom Parker meant Scott's teammate Phil Perkins had to make an emergency stop to avoid him but Scott was unable to avoid Perkins and went into the back of him, losing his front wing in the process. This meant that he had to drive the whole way round the circuit without a front wing and pit for a new one, losing him close to a minute. Down in last, Scott carried on and took advantage of some retirements. With a few laps to go, he was still outside the points but up to 12th but after a long battle with William Tringas, he get to 11th. Then, whilst chasing Andrejs Pestovs, Scott passed the recovering Hawkeye of Viesturs Priede who had lost his front wing. As well as that, Scott got past Andrejs and a retiring Pavel moving him up to 8th where he would stay for the rest of the race.
The 3rd to last race of the season was at the famous Spa-Francochamps circuit for the Belgian GP. It was an action packed race for Scott, having battles with Ben Warren, Adam Rouse, Erik Tveit and Pavel Loknovski. At the start of the race, he went from 8th back to 10th after good starts from Rouse and Georgios Davakos but stayed close to the fight for 5th place. After being 9th for most of the race, Scott gained from Bart De Vos's retirement and his team mate Lewis Redshaw's accident to get into 7th, then towards the end of the race he'd move up another place with Hawkeye Racing's Adam Rouse running wide. A battle for 5th place with Warren was on the cards in the remaining laps but Scott couldn't get close enough to the Nordsjoen driver, finishing 0.5s behind as they crossed the line to come home in 6th. With 2 races to go, Scott finds himself in 13th on 29 points having raced in only 7 of the 18 rounds, with an 11th place finish in the standings being the most realistic goal.
Superleague
Scott is currently Triple-Double Racing's test driver and has taken part in one practice session for the team, at the 2011 Turkish Grand Prix. At Mexico he was given a race seat, filling in for Bart De Vos. The event didn't go as well for him as the Supercup race, with him qualifying down in 23rd on the grid. This did, however, mean that he would have a relatively risk-free lap 1. This proved to be the case as he got round without any contact and spent the next few laps working his way up the field. The most notable battles for him were with Mark Wicks in the Woods Racing Mercedes and Chris Williamson in the Nijo Racing Toyota. All this was to be in vein though, as Scott retired with 15 laps to go with a fuel problem. He returned to his role as test driver at Canada.
Racing Career Results
Superleague
(key) (Races in bold indicate pole position, races in italics indicate fastest lap)
Year
Team
Chassis
Engine
1
2
3
4
5
6
7
8
9
10
11
12
13
14
15
16
17
18
19
20
WDC
Points
2011
Triple-Double Racing
TDR001
Toyota
AUS

-

UAE

-

JAP

-

CHN

-

RSA

-

AUT

-

FRA

-

MON

-

GBR

-

BAH

-

SMR

-

TUR

-

MEX

Ret

CAN

-

BRA

-

ITA

-

ESP

-

BEL

-

NED

10

SIN

-

29th
1
† Driver did not finish the Grand Prix, but was classified as they completed over 75% of the race distance.
Supercup
(key) (Races in bold indicate pole position, races in italics indicate fastest lap)
Year
Team
Chassis
Engine
1
2
3
4
5
6
7
8
9
10
11
12
13
14
15
16
17
18
19
20
WDC
Points
2011
Draig Racing
?
Renault
AUS

-

UAE

-

JAP

-

CHN

-

RSA

-

AUT

-

FRA

-

MON

-

GBR

-

BAH

-

SMR

-

TUR

8

MEX

6

CAN

6

BRA

7

ITA

7

ESP

8

BEL

6

NED

Ret

SIN

Ret

16th
29
2012
CSG Racing
CSG
Mecachrome
AUS

13

CHN

17

UAE

13

HUN

13

ESP

11

MON

13

CAN

17

KOR

16†

TUR

-

GBR

-

ITA

-

BEL

-

NED

-

IND

-

USA

-

BRA

-

JAP

-

SIN

-
† Driver did not finish the Grand Prix, but was classified as they completed over 75% of the race distance.