2011 Supercup Brazilian Grand Prix
From GPVWC Wiki

The 2011 Supercup Brazilian Grand Prix was the 15th race of the season and was won by Ojay Clark.
Report
Coming off the back of a comfortable win in Canada, championship leader Bart De Vos was once again the favourite for the race win as the Supercup paddock moved to South America for the Supercup Brazilian Grand Prix. After a disappointing retirement from the last race, it was a surprise announcement that the other Malta Force driver Lewis Redshaw would be missing the Brazilian Grand Prix but would return for the Italian Grand Prix, all but ending the Englishman's championship hopes.
Once again, team boss and Superleague front runner Jason Muscat would fill in for the team. Sam Millar once again joined the Supercup field, donning different overalls after filling in at CP Lotus last race, this time racing in place of the absent Tommi Koivunen at Hawkeye Racing. Another Superleague driver filling in for a Supercup team was Ojay Clark, assuming driver duties at Synergetic Motorsports, after driving for Williamson Dynamics the last couple of races.
Qualifying
Some would say it was a surprise, others not, but Clark was certainly the man to beat in qualifying. After some mediocre outings in the last couple of rounds, Clark stunned the field taking pole position by just under half a second, ahead of Pavel Loknovski. Jason Muscat took 3rd place, ahead of David Jundt and Tom Parker. It was a disappointing session for De Vos though, having to settle for 6th place, his worst grid position of the season. Ryan Walker took 7th, ahead of Ric Scott, Phil Perkins, and Ben Warren rounding out the top 10. After a podium in the last race, Sam Millar was having a tougher time in Brazil, and had to settle for 14th position on the grid.
Race
With many already expecting Clark to run away with the win after his impressive pace in the earlier sessions, it was key for the likes of Loknovski and Muscat to try and leapfrog the young Englishman at the start. Loknovski made the best start of the frontrunners, and sure enough found himself ahead of Clark, and quickly followed by Muscat, dropping the Synergetic driver down to 3rd place. Ryan Walker managed to get himself up to 4th, pushing Jundt down to 5th. Further down the order, cars were attempting to go three, nearly four wide down the straight before entering turn 4. Muscat was able to take the lead halfway round the lap, only for Loknovski to re-pass him at the final turn, and the next lap, Muscat re-passed the Estonian. In the battle for 5th between De Vos, Jundt and Georgios Davakos, it was the Greek driver Davakos who attempted a very ambitious move on Jundt, only to take off the Swiss driver's front wing, effectively ruining his race. Back at the front, at the start of Lap 2, Clark is able to get the jump on Loknovski after a late braking pass at Turn 1. Clark makes the 1st position his once again a lap later after another pass at Turn 1, this time on Muscat, who ran wide, also allowing Loknovski to get through back into 2nd. That position was to be very short lived though, as Loknovski outbraked himself at Turn 4, taking evasive manoeuvres to avoid hitting the leader Clark, and ended putting himself into a spin, and dropping down to 12th place. With Clark, Muscat and Walker all having to avoid the spinning TDR car, this allowed Bart De Vos to close right in on the leaders and put himself back into contention.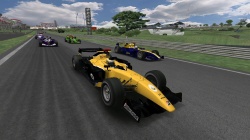 With another lap in the books, De Vos made it past Walker for 3rd place. After a difficult qualifying session, even at this early stage of the race, things were beginning to work out for the championship leader, seeing two of his main rivals slip down the order, and looking pretty set for a podium finish! With various incidents taking place, despite an average start for Parker, he now found himself up to 5th place, with Davakos in 6th. One of the most impressive starts was for PB Racing driver William Tringas, making a good start and avoiding the carnage to find himself up to 7th, ahead of Sam Millar, another good starter in 8th. Ric Scott was running 7th, but dropped to 9th after a small spin. Chris Williamson was rounding out the top 10, closely followed by a poor starting Ben Warren, now under pressure from the recovering Loknovski. Moving to Lap 8, and a close battle had developed between Williamson in 11th, and Warren in 12th. Warren had a poor start and lost a few positions, but had recovered to 12th, but struggled to get past Williamson who had a slightly higher top speed due to running lower wings. The two englishmen dueled for three laps, before the battle was prematurely ended after Warren outbraked himself going into Turn 1, and to avoid hitting Williamson, he speared right, taking off his front wing in the process though.
With the top runners field settling down and holding station, with De Vos now in 2nd ahead of team boss Muscat in 3rd, Lap 10 saw our first retirement of the race in Sam Millar, completely destroying his car on the exit of Turn 4. He was followed 4 laps later by Phil Perkins retiring, and another 2 laps later saw more disappointment for Jason Muscat, suffering more technical issues, and retiring from the race. This moved Walker up to 3rd place, Parker 4th, and the recovering Loknovski now into 5th place, just before the majority of the field made their one and only pitstop. After slightly miss-timing his speed limiter for his pitstop and being awarded a drive-through penalty for his troubles. With all the pitstops completed, including Walker's drive-through, Clark still led the race, with a nearly 7 second lead over Bart De Vos. Tom Parker was now in an unexpected 3rd place, about 4 seconds ahead of Walker and Loknovski, who were in a great squabble for 4th and 5th. Loknovski finally made his way past at Turn 1 on Lap 23, only to run wide at Turn 4 and allow the Nordsjoen driver back through. One lap later though, and Loknovski was able to make the same type of move stick, and began his chase for a podium position, his eyes fixed firmly on Kernow Sport driver Tom Parker. While Loknovski slowly but surely reeled in Parker, Walker was doing an impressive job of hanging onto the Estonian driver, and an epic three way battle for 3rd was being set up. Moving to Lap 28, Loknovski was right behind Parker, with Walker just a second behind, keeping a watching brief. A lap later, and Loknovski made another pass at Turn 1, but Parker fought back with a nice move around the outside of Pavel at Turn 4. The three continued squabbling for the next few laps, and on Lap 31, both Loknovski and Walker were able to slipstream their way past Parker, with Pavel passing him at Turn 1 after managing to negotiate their way past a slowing Ben Warren on the start/finish straight. Walker followed suit with a nice pass around the outside of Tom on the exit of turn 4, completing the pass at Turn 5.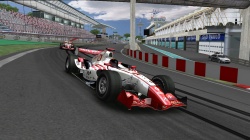 Meanwhile, back up the front, 2nd placed De Vos was really closing in on Clark, beginning to take nearly a second a lap out of Clark's lead, who was clearly coasting to look after his car. In the end, De Vos ran out of laps, with Ojay Clark taking his first Supercup win, just 1.1 seconds ahead of De Vos in 2nd, who after a difficult qualifying, will likely be delighted with 2nd place, strengthening his hold on the championship even more. Unbelievably, Loknovski made an error at the final turn of the last lap, allowing Walker through for a very impressive podium finish, with Loknovski having to settle for 4th, ahead of Parker in 5th place. Georgios Davakos had a lonely end to the race, after an eventful beginning, taking 6th, ahead of Ric Scott in 7th, continuing his record of scoring points in every race he's competed in so far. William Tringas took a great 8th place, scoring his first ever points in the Supercup, ahead of Chris Williamson in 9th. Williamson's Nijo Racing teammate David Jundt had to settle for 10th, recovering a single point after losing his front wing through no fault of his own earlier in the race.
De Vos' 2nd place finish extended his lead in the championship to 22 points over Loknovski, who had a troubled run to 4th place at Brazil. The absent Lewis Redshaw stayed 4th in the championship, 2 points behind Jundt. Another absentee who Gregg Lawson who remained in 5th, ahead of Muscat in 6th. Parker's good finish saw him move up to 7th in the standings, equal on points with Davakos. Liam Hatchell and Ryan Walker rounded out the top 10. In the Constructors' championship, Malta Force's lead was ever more commanding, with a 63 point gap over Nordsjoen Racing in 2nd, who thanks to Walker's podium, extended the gap between themselves and Nijo Racing to 11 points. Triple-Double Racing remained comfortable in 4th place, with Woods Racing in 5th, but Ojay Clark's win elevating Synergetic Motorsports from 8th to 6th in the standings.
Classification
Qualifying
Race
Standings after the Race
| | |
| --- | --- |
| Drivers' Championship standings | Constructors' Championship standings |
External Links